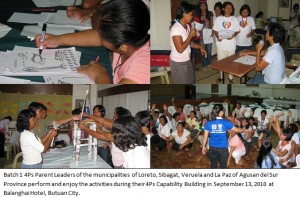 Butuan City – The Department of Social Welfare and Development has started training the parent leaders of 4Ps municipalities. As partners in the implementation of the program, 4Ps Parent Leaders needs to be capacitated in order to gain the basic knowledge, skills and attitude to effectively and efficiently perform their roles and functions in the community. The program also sees it as a good approach to boost their dedication and commitment to the program. Furthermore, this activity can direct to leadership development and people empowerment.
The sessions are focused on how to enhance leadership skills, effective communication and facilitation skills, and goal and decision making, and how to manage themselves for others.
Nine (9) Batches or 1, 800 4Ps set 1 Parent leaders are scheduled to attend the workshop starting September 13 until October 22, 2010, with 3-day workshop for each batch. The training is held at Balanghai Hotel in Butuan City.
The activity also serves as a venue for the different 4Ps municipalities parent leaders to get acquainted with each other.
4Ps is the approach of the government in achieving the Millennium Development Goals which is to reduce poverty and hunger, achieve universal primary education, reducing child mortality rate, improving maternal health care and promoting gender equality.  The program provides cash grants to extremely poor households upon the compliance of the conditionalities set by the program.
Caraga Region has a total of 52 4Ps municipalities and 2 cities. # # # (Social Marketing Unit)