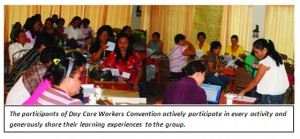 BUTUAN CITY – Presidents of Municipal/City Day Care Workers all over Caraga region converged at Amontay Beach Resort in Naispit, Agusan del Norte recently for a two-day convention initiated by the Department of Social Welfare and Development (DSWD) Caraga.
During the convention the participants were re-oriented on how to manage the Food for School (FFS) project implemented by the DSWD.  The project started in 2008 and implemented in 48 municipalities.
The project has been implemented by DSWD under the National Supplemental Feeding Program (NSFP), the Department's contribution to the Philippine Millennium Development Goals (MDGs).  The NSFP covers 3-5 years old children attending day care centers.
Golda Pocon, Head of Standards Unit, DSWD Caraga, said that based on the 2003 Food and Nutrition Research Institute Facts and Figures, pre –school children are affected by significant protein Energy Malnutrition (PEM).
She added that 27 in every 100 0-5 years old are underweight and 30 in every 100 are under height. Young children also suffer from deficiencies in iron, iodine; zinc and Vitamin A. Out of ten (10) children, almost three (3) are Vitamin A deficient.   These deficiencies have been attributed to poverty.
Important matters like Overview of Day Care Service in the Country, Reporting Forms on Day Care, and Draft Magna Carta for Day Care Workers Inputs on session Planning, and New WHO-CGS were also discussed. An FGD for enhancement/inputs on the draft Magna Carta for Day Care Workers was also tackled. # # # (Social Marketing Unit)