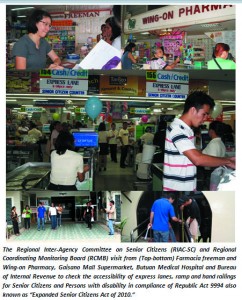 BUTUAN CITY – The Regional Inter-Agency Committee on Senior Citizens (RIAC-SC) and Regional Coordinating and Monitoring Board (RCMB) conducted a random inspection to establishments in Butuan City on October 05, 2012 relative to the implementation of Republic Act 9994 also known as the "Expanded Senior Citizens Act of 2010." This activity is part of the Elderly Filipino Week celebration which strengthens the campaign to implement the rules and regulations of the said law.
The committee were in full force in informing the owners and supervisors to be friendly and to give priority to older persons and persons with disability as they examined closely the express lane, ramps, hand railings and comfort rooms. They also checked the records with supporting documents if they comply the five percent (5%) discount to Senior Citizens on purchase of basic necessities worth P 650.00 pesos weekly and prime commodities worth P 650.00 pesos weekly. The twenty percent (20%) discount plus VAT exemption on medicines, laboratory fee, and hospital bills included the professional fee of the attending physician and health service workers.
The Bureau of Internal Revenue (BIR) has the best accommodation among National Government Agencies (NGAs) operating in CARAGA, for they have clinic and Senior Citizens Lounge which offers snacks and coffee for Senior Citizens and Persons with disability tax payers. This is supported by their Regional Director Atty. Norberto D. Vitug.
The team that conducted the evaluation was composed of Consumer Arbitration Officer, Elmer M. Natad of the Department of Trade and Industry (DTI), Senior Citizen Focal Person of the Department of Interior and Local Government (DILG) Jeffrey A. Ramo, Education Supervisor Lorenza S. Fuentes Gonzales, Ph.D. of the Commission on Higher Education (CHED), Senior Technical Education and Skills Development Specialist  Fe N. Gomez of Technical Education and Skills Development (TESDA), Nilo Galeon of the Department of Public Works and Highways (DPWH), Edelwesa R. Patubo of the Bureau of Internal Revenue(BIR),  the Department of Social and Welfare Development(DSWD)  Regional Focal Person for older persons and persons with disabilities, Wilma Geralla, and Cristine Sabandal of Butuan City's Office of Senior Citizens Affairs (OSCA).
The institutions assessed by the team included Butuan Medical Center, Commission on Higher Education (CHED), Bureau of Internal Revenue (BIR), Mercury Drug, Wing-on Pharmacy, Farmacia Freeman, and Gaisano Mall.### (Social Marketing Unit)