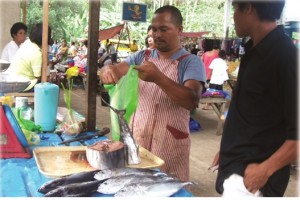 "…hayahay na ang nay tulo ka kilo nga bugas..," Federico Morta states as he recalls the time when having three kilograms of rice was already a very blessed day for his family. Originally, Federico and his wife Cindy came to Jabonga, Agusan del Norte nine years ago to take care of Federico'ssick and frail mother but later decided to stay for good, consequently leaving his jobin Laguna as a merchandiser.
Having no job in the new place, the couple had a hard time supporting their four young children. The couple resorted to go on peddling cooked food and fresh fish.
Cindy would go from one house to another and from one part of the town to another, to sell the dishes she prepared for the day's peddling. Federico would do the same as Cindy's to sell fresh fish.
Their daily routine was the literal "walk the talk" – walking and talking to every prospective buyer inplaces where their feet would lead them.
The couple's efforts, however, seemed not enough. Noteven after Federico had taken a stall or pwesto in their local trading center. For them, life is still hardand they could barely provide for all the family's needs.More often than not, they had to borrow money for their children's fare in going to school.
Sometimes, Federico would be late in opening his stall because he has to wait for hours for his ride after purchasing new stocks from a distant town. This would mean selling less, thus,gaining less.
Life had been very hard for the couple and they kept asking, "When would things be easier for us?"
In July 2009 came the first answer to their prayers. The Department of Social Welfare and Development's Pantawid Pamilyang Pilipino Program came to Jabonga. With the financial assistance provided through the program, the couple was aided in their problem with the necessities of their children in school.
As their children grow, so were their needs, especially for food. The couple thought of and then actually went on to borrowing money from various financial institutions to cope with these growing needs. But, paying their debts to these institutions had been hard and their state did not seem to change.
By the end of 2011, another program by the Department of Social Welfare and Development came to Federico and Cindy's life – the Self-Employment Assistance – Kaunlaran (SEA-K), a scheme of the department's Sustainable Livelihood Program. The program targeted the beneficiaries of Pantawid Pamilya thereby including Cindy and Federico in the beneficiary list. They were able to borrow P10, 000 through this program.They used it as additional capitalto buy more fish to sell and ice chests for storage – they can now hold more than 3 times the inventory of fishthey used to stock.
Through the SEA-K, Federico and Cindy were trained and given tips in handling their business and their finances. Also, it gave them the capacity to acquire a motorcycle of their own. Unlike before when Federico had to walk to sell his goods, now he just sits comfortably on to his bike and delivers the fresh fish to their suki who really wait for him to pass by their homes. He used to reach just a few barangays during peddling.  Now with his new vehicle, he can go to eight and can even go further as he likes. He never goes late to the market anymore as he no longer waits for public utility vehicles after buying new stocks to sell.
As of now, Federico and Cindy have already paid in full the capital assistance provided to them by the Sustainable Livelihood Program. Their micro-enterprise is operational and gaining profits, and most importantly,providing their family with food is no longer a problem – three kilograms of rice a day has now turned to the least that they can bring home every day.
Equally important in their story is what Federico said "Natabangan man ko, maong motabang pud ko" (literally: I was helped, that is why, I also help).
Back to the times when out of their neighbors' compassion they give Federico's family something to eat when they had none, today Federico and Cindy gives it back by helping their relatives and neighbors in their own little ways whenever they have problems. ### (Social Marketing Unit)