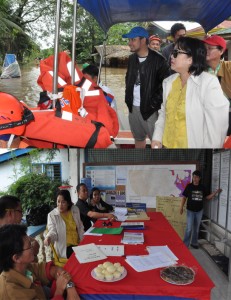 Butuan City- Four (4) municipalities namely Esperanza, Talacogon, San Francisco and Prosperidad in Agusan del Sur, hit by tropical depression Agaton, were visited by Regional Director Minda Brigoli of the Department of Social Welfare and Development (DSWD) Caraga on January 21-22, 2014.
Dir. Brigoli, assisted by AdS- Community Based Social Worker John Michael Andohuyan, personally conducted an ocular inspection to know the situation of some municipalities in Agusan del Sur which were hardly affected by the calamity.
In her stop in Esperanza, she was transported using a fiberglass boat to arrive in their municipal hall since it is located in Brgy. Poblacion which was totally submerged in flood water.
Escorted by Mayor Deo Manpatilan, Jr., she also dropped by in the evacuation centers situated in Paglaum Multi-Purpose gymnasium and Esperanza National High School classrooms and talked to some evacuees and encouraged them that the Government is doing its best to respond to their immediate needs.
A total of 3,000 family packs were sent by the Office through the assistance of Region XI a day after Dir. Brigoli's visit in Esperanza.
Riding a rented vehicle, the Director also passed through the almost impassable flooded roads going to Talacogon. She sat with Mayor Jesryl Masendo during the meeting of the Municipal Disaster Risk Reduction Management Office (MDRRMO) staff and observed the organized and well-documented operations of the LGU in terms of disaster response.
Mayor Jenny De Asis of San Francisco also welcomed the Director and they discussed matters about the ongoing crisis. With the increasing number of affected barangays and families because of flooding, the Office had responded to the request of their LGU through the provision of additional 2,500 family packs and will be distributed to the five (5) interior barangays.
Prosperidad was the last municipality visited by the Director. She had a meeting with Mayor Albin Magdamit who is grateful for the active participation of DSWD's community and other project-based staff workers during the local relief operations.
Dir. Brigoli also had a meeting with the executive staff of the PLGU officials at the provincial capitol to share observations, actions, accomplishments and recommendations in her visit.
"In this time of crisis, our spirits were indeed uplifted seeing the regional director of DSWD visit our place," a resident of Esperanza expressed. ### (Eunice G. Montaos/ Social Marketing Unit/DSWD Caraga)