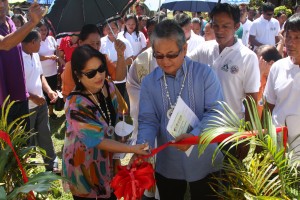 Day-asan , Surigao City –  The Kapit Bisig Laban Sa Kahirapan (KALAHI – CIDSS) Grassroots Participatory Budgeting (GPB) Project successfully inaugurated the one (1) unit Day Care Center in the " Little Venice of Surigao"-  Brgy. Day- asan, Surigao City on April 23, 2014.
The project costs Php 823, 620.00 of which Php 750,000.00 of it is granted by the BUB/ GPB while Php 30,000.00 is a cash grant from the BLGU and Php 43,620.00 -in kind comes from the LGU and the Community.
Regarded as the "Little Venice of Surigao" Brgy. Day-asan is a picturesque small fishing village comprised of houses on stilts and coral rocks. It has a total of 307 households (HH) of which 225 HH are identified poor.
For twenty (23) years in service as a day care worker, Visitacion R. Laid exposed that it is just this time that Brgy. Day- asan has a facility that is conducive for learning for her day care children through the DSWD Kalahi – CIDSS GPB Project.
Caraga Regional Director Minda B. Brigoli said that this community – driven project is an intergenerational pursuit that will cater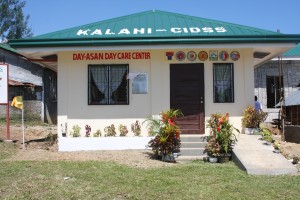 our children. The newly inaugurated one (1) unit Day Care Center addresses the gaps of supply side for the Pantawid Pamilya beneficiaries.
" Sugod sa akong pagka – Kapitan niini nga barangay nangandoy ako nga matagaan ug mga proyekto an amo barangay inubanan sa pag – ampo sa Ginoo na hekapon an kasing – kasing sa mga tawo na naa sa pang – gobyerno aron matagan amo barangay sama sa Day Care Center. Since from the start, as a barangay captain it has been my dream that our barangay will be given a project. Fervently I prayed the God will touch the hearts of those in the government to provide us a development like this, a Day Care Center," Brgy. Cap't. Ruben B. Catarman, cordially revealed.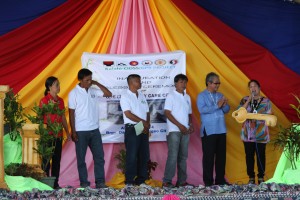 "Isip Kapitan nagpasalamat ako sa mga tawo nga nagdumala ug nagsuporta niini nga proyekto sa taga Kalahi – CIDSS, DSWD Caraga, sa Province, Sa City, og sa tanang barangay opisyales g ilabi na  sa mga nag boluntaryo. As  a Brgy. Cap't.  I am grateful to all the people who manned and supported this project to Kalahi – CIDSS, DSWD FO Caraga, Province, City, and all Brgy. officials especially the community volunteers," he added.
KALAHI – CIDSS as the flagship of anti – poverty project is continually serving the region to empower the community, improve the local governance, and reduce poverty. Grassroots Participatory Budgeting formerly known as Bottom – Up Budgeting (BUB) is a strategy on the current administration to attain improved local governance and poverty. This is a response to the Millennium Development Goal of reducing poverty in the Philippine development Plan for 2011 – 2016.
Surigao City is a non – KC area but adopted the process of Kalahi – CIDSS – Community Driven Development (CDD) in the implementation of BUB/ GPB. With the technical assistance extended by the Regional Office and the hiring of a BUB/ GPB facilitator assigned in the area helped in the facilitation of the implementation.
The city government extended full support to BUB 2013 implementation by providing full – staff complement by creating the City Area Coordination Team ( CAT ). ###(TDB/Social Marketing Unit)