Tagbina, Surigao del Sur-  Knocks in the middle of the night, fox holes under their house, and her father's casual sudden disappearances-these were some scenarios that were lived by Janita P. Acuña in her younger years when their community was yet a haven of insurgency. Peace then was but a luxury.
These dreadful experiences in growing up were Janita's strong motivaton to choose and maintain a peaceful community their village has become.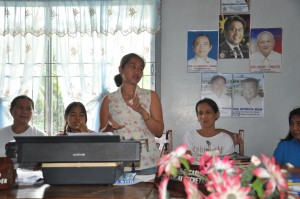 Lone parenting
At 42, she is a mother of six (6) children whose ages range from 5 to 18. Her family had to be away from her husband, Francisco, 42, who is working very hard as a security guard in Cagayan de Oro.
With the distance, Francisco could only afford to visit them in Villa Verde only thrice a month. This gives a lot of challenge to Janita in terms of taking care of their children.
In late afternoons and early nights when her children walk towards home from their school, Janita sometimes feels anxious having no lights in the streets to guide her children's paths towards home. As a mother, she knows that dark areas are always susceptible to danger.
This was the very reason behind her affiliation as a volunteer for the PAyapa at MAsaganang PamanayaNAn (PAMANA) project which was implemented under the Kapit-Bisig Laban sa Kahirapan- Comprehensive and Integrated Delivery of Social Services (Kalahi-CIDSS) program of the Department of Social Welfare and Development (DSWD).
Though she was hesitant at first because she is toothless more so she thought she has no pleasing personality. But for the sake of the safety of her children, she sacrificed for the solar streetlights to be realized in her community. These she did so that her children can go home safely.
"Dili na ko gusto nga ang mga kahadlok nga akong nabati sa una mabati pud sa akong mga anak karon.  Di pud ko gusto nga ang akong mga anak manginabuhi pud sa kahadlok. (I don't want my children to feel the dread I felt when I was young. I don't want them to live in fears either)." Janita emotionally opens.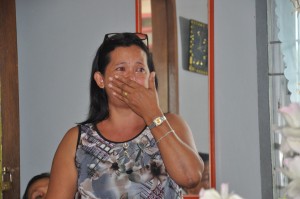 Legacy to leave behind
Though she tearfully shares her disappointment that she was not included in the engraved list of names of volunteers for the health station sub-project during the Kalahi-CIDSS:KKB, Lyra Vee A. Vigonte, 42, still volunteered in the implementation of PAMANA projects.
As a mother, she longs to leave a legacy for her only child. She, too, like most mothers, wants her child to be proud of her.
Serving as the chairperson for the Project Preparation and Operations and Maintenance teams during the implementation of the water system sub-project in Villa Verde, Lyra shares that she does not want her child to question her someday why she didn't participate in putting up the said sub-project.
The successful water system sub-project completion in the village eventually answered the need of Lyra's family for enough water supply but also her co-villagers' as well.
"Kahinumdom pa jud ko sa una atong wala pa ang proyekto, mubangon ko ug alas-kwatro sa kaadlawon para magpila mangabo ug tubig unya makauli ko sa among balay alas-kwatro na pud sa hapon (I can still remember before the project was put up in the village, I will have to wake up as early as 4 o'clock in the morning to queue for the water and I went back home as late as 4 o'clock in the afternoon)," opened Desideria T. Rarasonabe, 54, a resident of Villa Verde.
Punong Barangay Alejandro T. Panamogan added on this statement that the problem on the lack of enough potable water supply once challenged the peaceful situation of their community as it created conflicts between the residents who all badly need water and also the local barangay council.
"Gubot jud kaayo ang mga katawhan, tungod lang sa tubig mag-inawayay, ug permi pud mabasol ang council (The people were in conflict before and they even blame the council for the of water crisis)," he said further.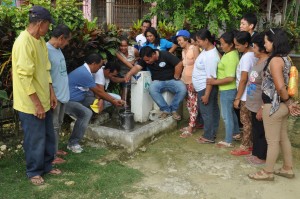 Problems solved, conflicts settled
The conflict which was caused by the problem in water was solved through the funds made available from the combined resources of Kalahi-CIDSS Makamasang Tugon and PAMANA cycle 1, various community consultations, bayanihan/pahina activities, and active participation of volunteers.
These mothers in Villa Verde found an avenue to develop their skills and to learn significant things through the Kalahi-CIDSS PAMANA project. They all recognize how distinct the Community-Driven Development (CDD) approach incorporated by the Program as it promoted understanding and unity between and among the residents and the local barangay council.
Apart from motherhood, they found themselves as project implementers and peacekeepers in their own simple way.
With their experiences in the intervention of the Program, the anxieties which are but innate to every mother were all answered through the peace and development efforts of the national government. ###(Social Marketing Unit/DSWD Field Office Caraga)