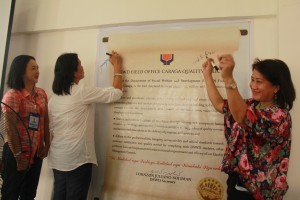 Butuan City- The Department of Social Welfare and Development (DSWD) Field Office Caraga had a ceremonial launching of its Quality Management System (QMS) on October 16, 2015 at the Productivity Building of the DSWD Home for Girls, Brgy.Bonbon, Butuan City.
This activity was attended by Regional Director Minda B. Brigoli together with the QMS Core team members, and was witnessed by some of DSWD's partners and stakeholders.
Along with the launching is the ceremonial signing of the harmonized Quality Policy which was approved by the Honorable Secretary Corazon-Juliano Soliman.
Brigoli said that this event is just part of the significant preparations of DSWD-Caraga towards the ISO 9001:2008 certification which the Field Office looks forward to have by December 2015.
"We are very excited on this matter that is why major steps along the QMS journey were already accomplished by the Field Office," she said.
"FO Caraga is done with the ISO Orientation, Gap Assessment, QMS Planning, Training on QMS Documentation, QMS Documentation, QMS Training and Implementation, and Internal Quality Audit (IQA) Training," Brigoli added.
"Next week (October 21-26, 2015) is the schedule of our conduct of the IQA," she quipped.
The IQA is the stage in the QMS where the identified and trained internal auditors (members of the IQA team) audit the different processes involved in the service delivery of the Field Office.
It is in the IQA that the internal auditors will observe, evaluate, and recommend corrective actions for possible conformity, opportunity for improvement, and corrective actions.
In the language of ISO 9001:2008, conformity simply refers to the fulfillment of the set requirements in the QMS, and non-conformity only means otherwise.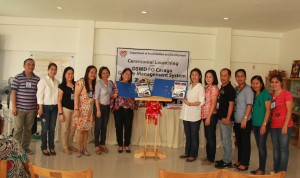 Various technical guidance sessions were also conducted by the Development Authority of the Philippines (DAP) to assist the Field Office on the necessary things to be accomplished to be able to get the certification before the year ends.
The FO Caraga aims to enjoy the following benefits in getting the ISO 9001:2008 Certification: internationally assessed and recognized system, compliance of office works with the standardized QMS, periodically audited system, and continual improvement of the system.
With the premise that DSWD is the frontline and lead agency in social protection and that the satisfaction of its clients and stakeholders is the Department's passion, the Field Office Caraga's Quality Policy bears the tag line "Sa Kalidad nga Serbisyo, Kalidad nga Kinabuhi Sigurado". ###(Social Marketing Unit/DSWD Field Office Caraga)