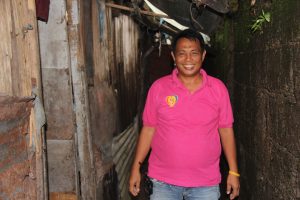 The pursuit of better living for Panonte family has never been easy yet it has brought inspiration to others who also face various difficulties in life.
This is the story of Caraga's Modelong Ama-Dima-arig A. Panonte. His commendable hardships to provide for his family amidst hindrances and his excellent leadership as catalyst of change in his community regard him as an exemplar in this modern society.
Happily married to Jamila, he is blessed with 11 children namely; Jamila, Jalal, Jamina, Jhasmine, Jalani, Junaid, Jamiya, Jamaica, Joharie, Janjan, and Janina. Their family is residing in Bislig City.
Guided by the teachings of Islam, Dima-arig and his family is living harmoniously in a Christian-dominated area at Abarca Street, Saint Paul District, Barangay Mangagoy.
A glimpse of his practical roles
Practically, to raise 11 children with different needs is difficult. Nonetheless, he manages to provide the basic needs of his family. He ensures that all his children go to school and they are well provided with clothing, food and the like. Despite his busy role being a provider, he is actively involved in various fora and symposia that significantly honed him in fostering empowerment among others.
Dima-arig works as a building guard in Bislig City and earns Php5,200 every month. His good wife, Jalila, an active parent leader of Pantawid Pamilyang Pilipino Program, also works part-time in a Madrasah (Arabic school) during weekends and earns Php2,000 a month. Such wage could still not suffice their basic needs considering their number.
For additional income, they have put up a stall selling ready-to-wear (RTW) products such as socks, handkerchief, clothes, school bags, sunglasses and etc. with an estimated income of Php300 a day.
An inspiration of his hardwork
All the hardwork of Dima-arig has paid off as his children are all doing good in their studies. Fortunately, his eldest daughter Jamila, 24, who used to be a scholar of LGU-Bislig, was given a job order position after graduation and later on with a regular position as Day Care Worker in November 2016.
Jalal, 21, a third year college student, is also one of the ESGP-PA grantees, taking up Bachelor of Arts in Elementary Education in Caraga State University, Butuan City. Jamima, 20, a CHED scholar, is also a third year college student who also helps in paying her own tuition fee through selling viand, snacks and candies in the Arabic school. Jalani, a grade 11 student, is a scholar of the city mayor who maximizes his time by resorting to part-time work during his free time in food stores in Mangagoy.
An advocate of Gender and Development (GAD)
As head of the family, he ensures that male and female members should be provided with equal opportunities to improve themselves. This is  in contrast to the tradition of other Muslim families/communities that women are not allowed to be part of any community and development activities, and in worst cases even deprived of basic formal education. He serves as an advocate of gender and development.
This manifests his active involvement in gender-empowering organizations in the locale. He currently serves as president of Anak ng Bislig Group, President of SPMUDA-Southern Philippines Muslim Unity for Development Association, Member of BCPC- Barangay Council for the Protection of Children, Volunteer of the Special Anti-Smoking Task Force, and District President of ERPAT-Empowerment and Reaffirmation of Paternal Abilities in the City of Bislig.
He attended and participated in different trainings/workshops and other various activities like Farmer's Congress and National and Local Policies on Organic Agriculture, Katarungang Pambarangay Orientation, Community Based Disater Risk Reduction and Management Workshop, Seminar sa Pagpalig-on Sa Kristohanong Kaminyoon Ug Responsabling Pagkaginikanan (Seminar on Strengthening Marriage and Responsible Parenthood), Service Training Program on Speech Development and English as a Second Language, active involvement in Family Development Session (FDS), committee member during 41st Nutrition Month Celebration in Bislig City, participation in the 2-Day Seminar-Workshop on Standard Chart of Accounts and C.O.O.P P.E.S.O.S, Good Cooperative Governance Seminar, and Parenting Enhancement for Parents of Anak ng Bislig.
His hopes
Despite their patriarchal background of practices, traditions and beliefs, Dima-arig serves a model to his family through living peacefully with others by respecting other cultures and traditions. This orientation does not hinder him to become a good community member, rather, he becomes a true inspiration to others in the pursuit of peace and camaraderie amidst cultural differences.
Moreover, his life and his dreams inspire us that perseverance, dedication and love to everything we do can bring an extraordinary leadership that sets a total difference. And this is Dima-arig's definition of an ideal father###(RYAN MALBAS TAPAYAN/Social Marketing Unit/DSWD Field Office Caraga)