SURIGAO DEL SUR – It was a big homerun celebration for Bayabas and all Bayabasnons.
The Kapit Bisig Laban sa Kahirapan – Comprehensive and Integrated Delivery of Social Services turned over and inaugurated seven (7) PAyapa at MAsaganang PamayaNAn (PAMANA) and two (2) Kalahi-CIDSS Bottom-up Budgeting (BuB) community sub-projects last January 20, 2017.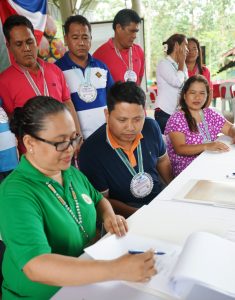 Added mix to the highlight of such jubilant moment was the Municipal Orientation for Kalahi-CIDSS National Community Driven Development Program (NCDDP) with which they have finalized the engagement with the signing of the Memorandum of Agreement that same day at Solomon P. Lozada National High School Covered Court, Brgy. Amag, Bayabas, Surigao del Sur.
Inaugurated were one (1) unit – two classroom building and drainage canal situated at Brgy. Amag, drainage canal in Brgy. Balete (Pob.), single barred box culvert in Brgy. Cabugo, 22 units electric powered street lights situated in Brgy. Cagbaoto, drainage canals in Brgy. La Paz and Brgy. Panaosawon and found in Brgy. Magobawok (Pob.), a gravity driven water system.
Municipal Mayor Maria Clarita Limbaro, Sanguniang Bayan Chief and members, heads of offices, Barangay Captains and their Barangay Councils, Kalahi-CIDSS Bayabas Area Coordinating team and the community volunteers ecstatically participated the big event as it progressively unfolded the entire day.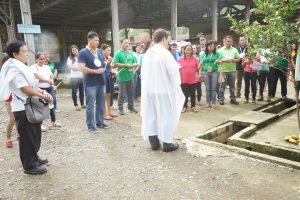 The Department of Social Welfare and Development (DSWD) Caraga was represented by Engr. Vinnes V. Lastimado from the Kalahi-CIDSS Regional Program Management Office (RPMO) and Sub-regional Program Management Coordinator Juvy Echevaria. Both discussed to the eager Bayabasnons the Kalahi-CIDSS initiative, its procedural operation, the role of the community and the impact of volunteerism to the success and completion of the sub-projects.
Also serving as a heartfelt take away from the momentous event was the message of Mayor Limbaro inspiring those who were present during the event.
"Kita nga taga-Bayabas walay bahandi nga ikapanghinambog pag-abot sa materyal ug   pinansyal nga aspeto. Apan mapagarbuhon ako muingon nga ang bahandi sa taga-Bayabas ang pagtinabangay para sa ato pag-uswag. Ang mahimo sa atong mga kamot ug kusog para sa kaayuhan sa tanan dili ikabaylo sa unsa pang lain bahandi, (The Bayabasnon wealth is not measured in terms of material and financial aspects. We are not wealthy at all. But with great pride I shall say that the wealth of Bayasbas is the helpful and selfless nature of our people. What our hands and force can do for the betterment of the entire community cannot be traded for anything else)," she said.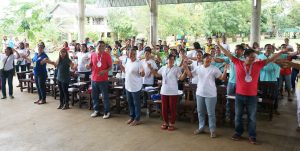 Engr. Lastimado also gave praise to the communities of Bayabas. ''The enthusiasm and fervour of Bayabas was very evident that even OIC-RD Mita Chuchi Lim took notice and was captivated. From Makamasang Tugon (earlier Kalahi-CIDSS initiative) to the most recently turned over and inaugurated projects through PAMANA and BuB, the people of Bayabas never failed to deliver their share of every bargain," he said.
Truly, nothing could ever go wrong with genuine practice of Maagap at Mapagkalingang Serbisyo, which the DSWD takes pride as its brand of service. This mantra, hopefully, would be imparted to all partner-stakeholders, improving the kind of service to the poor and marginalized, making it possible for the agency to effectively address the needs of the people through its programs and services.