BUTUAN CITY – Field and Regional engineers and Technical Service Providers (TSP) of the Kapit-Bisig Laban sa Kahirapan – Comprehensive and Integrated Delivery of Social Services (Kalahi-CIDSS) implemented under the Department of Social Welfare and Development (DSWD) attended a 5-day training on the Conduct of the Technical Session Workshop on Preparation of Plan Designs and Pogram of Works (POW) for LGU-led Kalahi-CIDSS Implementation (TIER 2) being held at Hotel Luciana from May 8-12, 2017.
This 5-day activity is attended by Deputy Area Coordinators (DAC) and Region/Sub-Regional Program Management Office engineers.
The training workshop covers technical sessions, brainstorming and proposal making enhancement to improve and update their skills and knowledge in infrastructure Plan Designs and POW preparation and ensure that community sub-project proposals are done on time – without any glitches.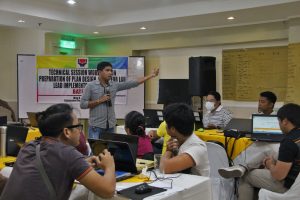 Engr. Jovenal Bernat, Regional Community Infrastructure Specialist (RCIS), who is heading the conduct of the activity, clearly elaborated the purpose of the session by elaborating what he believes is the importance of the implementation. He explained that since the TIER 2 implementation is crucial (with budget utilization covering January – December 2017 only), he reminds the workers to stick with the timeline, and at the same time remember the impact of the engineers in the success of the program.
Ms. Elsa Montemor, Regional Community Development Specialist (RCDS) of the program reinforced what Engr. Bernat explained reminding the workers that even though infrastructure projects are what the DACs and TSPs are focusing on, they should always remember that community development through community organizing is the essence of the program. "This (TIER 2) has been a good practice and it is indeed true that engineers are also called Community-Driven Development enforcers by heart. So let us continue enforcing, pushing and advocating in [the] real essence of community development," she said.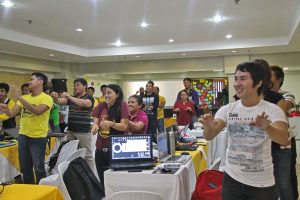 The discussion was also focused on the important role of the technical staff (DAC/TSP) in community development and encouraged the enforcers to "start the development within themselves" for they are the "vehicle for Community-Driven Development to succeed in the implementation."
 Kalahi-CIDSS is one of the programs of DSWD that uses the Community Driven Development (CDD) approach to empower local communities to undertake their own development projects by actively and directly partaking in local governance in identifying their community needs as well as taking part of implementing projects that will address these needs.