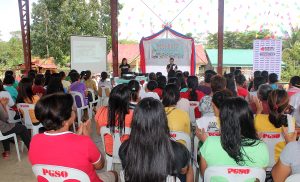 PROSPERIDAD, AGUSAN DEL SUR- A total of ninety (90) residents of Barangay Patin-ay participated in the Knowledge, Attitude, and Practice (KAP) Survey recently conducted by the Department of Social Welfare and Development (DSWD)-Caraga through the Social Marketing Section (SMS) on October 18, 2018 in Barangay Patin-ay here.
KAP Survey is a form of communication research that enables the social marketers to determine the strengths and weaknesses of the communication tactics employed by the Department directly from the stakeholders. The survey which was given to 45 4ps beneficiaries and 45 non-4ps beneficiaries aimed to examine the awareness of the stakeholders on DSWD's core programs (Pantawid Pamilyang Pilipino Program or 4ps, Sustainable Livelihood Program, and Kapit-Bisig Laban sa Kahirapan-Comprehensive and Integrated Delivery of Social Services or Kalahi-CIDSS), and the basic services such as Assistance to Individuals in Crisis Situation (AICS) and Supplementary Feeding Program (SFP), among others.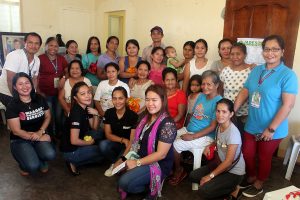 Seventy participants (equal number of 4ps and non-4ps respondents) answered a five-page questionnaire with the help of the SMS staff who served as data collectors. The questionnaire focused on stakeholders' knowledge on DSWD programs and services and described their attitude towards DSWD's performance in delivering programs and services to the community. The other twenty (20) participants participated in the Focus Group Discussion (FGD) later in the afternoon where the SMS staff listened to a more in-depth discussion with the respondents.
Social Marketing Service-Communication Development and Research Divisions (SMS-CDRD) shall consolidate the accomplished survey forms and perform analysis on the data gathered. The result of the survey and FGD will serve as basis for the SMS in enhancing its communication strategy ang in making it more effective and efficient to the community.
Responsible for undertaking advocacy, social marketing, and networking activities, the SMS conducts the KAP survey annually to ensure that messages embodied in the vision, mission, and goal of the Department are effectively communicated to the general public. ###(ABEGAIL R. ALVAREZ/Social Marketing Section/DSWD Field Office Caraga)