"Hantod nga kaya pa ninyo manarbaho, ug duna pa moy makuot, ayaw kamo pag depende sa gobyerno kay daghan pa ug gi atiman ug gi gastuhan ang atong gobyerno (As long as you can still work, and as long as you still have resources that you can use, try not to demand from government for aid – government has still a lot of matters to attend to and expenses to take care of)."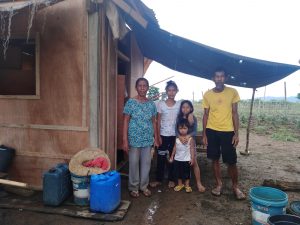 These were the words of Manong Romeo Demaymay, a 60-year-old farmer from Cuyago, Jabonga, Agusan del Sur. These were the words he wanted to tell other able-bodied Filipinos who are demanding subsidy from the government, especially right now that there is a pending threat of the COVID-19 virus in the country.
Manong Romeo qualified as one of the recipients for the Social Amelioration Programs (SAP) of the government, specifically the Emergency Subsidy Program (ESP) of the Department of Social Welfare and Development (DSWD), implemented in partnership with the Local Government Units (LGU). But with majority of the people clamoring to be part of the ESP, Manong Romeo opted not to accept the aid, but instead told their barangay officials to give it to someone who really needs the cash subsidy the most.
"Ako usa ka mag-uuma. Makapadayon paman ko sa pag tanom-tanom. Duna pa pud ko ginagmay nga ma-harvest. Kaya pa nako mabuhi akong pamilya maski naa ning kalisod aning virus. Kahibalo ko naa pay uban nga walang-wala na gyud. Mas angay sila makadawat anang ayuda (I am a farmer. Right now, I can still do some farming, I still have some crops to harvest, and I can still provide for the needs of my family. I know there are families who needs this aid more than my me, so they should be the ones who should get it)," Manong Romeo said.
Jabonga has a total of 4,365 families who received the ESP. Php5,000 is given to the most affected families due to the Enhanced Community Quarantine. Families who belong to the informal economy, or poor/low-income earning families who do not have a source of income due to stoppage of work, or due to the calls for people to stay at home to limit the spread of the virus.
Among the recipients are the 2,143 Pantawid Pamilyang Pilipino Program (4Ps) beneficiaries and 2,222 Non-Pantawid beneficiaries. Manong Romeo's family was supposed to be part of the latter. But because of his principles in life, He opted not to receive the aid.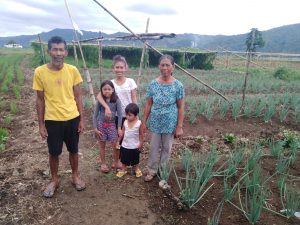 "Wala ako naghago ana nga kwarta, mao ikaulaw ko nga dawaton ko kana labi na nga naa pay mas nanginahanglan  kaysa kanako. Nakasabot ko sa programa ang angay makadawat kadtong pinaka-nanginahanglan gayud. So angay na sa uban nga wala gayud makuhaan ug kinitaan ug pang-konsumo (I did not work for that money, so I do not deserve it. It would be a shame if I will still get that money knowing that there are those who needs it more than I do. I understand how the program works – those who are most affected should get the subsidy. So it should go to those who no longer have a source of income)," Manong Romeo exclaimed.
His neighbors, including their Barangay Chairperson convinced him to avail of the ESP, but he still insisted of waiving it. "Giignan man siya nga dawaton nalang pero nagingon gyud siya nga dili niya dawaton. Gusto lang niya nga siguraduhon sa Barangay nga mahatag ang ayuda sa kwalipikado gayud (They tried to convince him that he should accept the aid, but he insisted otherwise. All he asked for was that the Barangay ensured that it would go to someone who is very qualified of the subsidy)," Christian Joy Cervantes, OIC-Municipal Social Welfare and Development Officer of Jabonga said.
Because of his selfless act, people began to show their respect towards Manong Romeo. They appreciated his strong will and principles in life. While the rest of the people are bashing the LGU and the DSWD for their exclusion from the program, here is someone well qualified but insisted not to have the Php5,000.
"Karong panahuna, angay gani nga kita ang motabang sa gobyerno kay lisod ang panahon karon. Daghan ug gi atupag ang gobyerno nga mga panginahanglanon sa katawhan sa nasod. Kung kaya pa nato moatiman sa atong kaugalingon, molihok kita dili kay maghulat nga dunulan ta ug tabang (Nowadays, the government is facing a lot of challenges, attending to the needs of the people. It should be us who should help government, and just wait for government to extend help. If we can still manage to take care of ourselves – our needs, then we should take care of ourselves)" Manong Romeo said.
John F. Kennedy, an American President once said in his speech: "Ask not what your country can do for you – ask what you can do for your country."
Well, this must be how Manong Romeo sees his role as a citizen – that he has a great role during these trying times. With the hardships being faced by every Filipino family because of the COVID-19 pandemic, there are still those who understand that every citizen should play an important role in combating the effects brought about by the pandemic.
It is just so inspiring hearing the story of Manong Romeo. That even in times of crisis, those who have less would still be willing to sacrifice the meager resources that they have so that others might benefit. If people would just understand how the Social Amelioration Programs work, then there might be more of the Manong Romeo's in the communities, people who are willing to work with government during these trying times.