The Bayanihan to Heal as One Act (Republic Act 11469), signed by President Rodrigo Duterte on March 26,2020, has paved a way to address the needs of those affected by the COVID-19 Pandemic. One of the agencies tapped to make it operational is the Department of Social Welfare and Development.
Through its guidelines, 492,758 families in Caraga region were identified as the beneficiaries – qualified to receive Php5,000.00 pesos as emergency subsidy or aid. The said emergency subsidy will address the needs of low-income families, most affected by the Enhanced Community Quarantine.
One of the families who was able to receive the said subsidy is the family of Ma. Josefina Gilos Bolaso, from the Municipality of Rosario, Agusan del Sur. Josefina is a person with disability (PWD). But even with her disability, this did not stop her from working – earning to address her family's needs. She is an on-call traditional massage therapist. She said that she doesn't charge her clients strictly. Because of that, she gets a lot of clients, because even those who do not have a lot of money could enjoy her services.
"Ang akong paghilot-hilot kay walay tarong nga presyo. Mura rag siyag donation kibali. Mao nga daghan magpahilot nako kay dili man sila mapugos mobayad ug mahal (I don't have a fixed price for my massage services, it is up to the customer how much she/he will give or donate. That is why there are a lot of people who would avail my services because they are not pressured to pay a hefty price form my services)," Josefina said.
Josefina lives with her parents and two other siblings. Before, she did not feel any pressure working as a massage therapist. But when her brother lost his job a few months before the COVID-19 pandemic hit the country, she became the breadwinner of the family – forcing her to have regular services just to provide for the family's needs, especially the medical needs for her mother who was suffering from a brain tumor.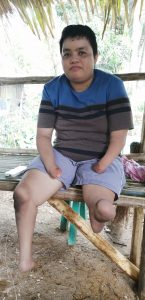 But when the pandemic hit, her job was also jeopardized. To stop the spread of the virus, people are instructed to keep a proper distance and avoid contact with other people. No massage therapy activities were allowed during the community quarantine. This meant that Josefina would have to stop working.
Since Josefina's job was not regular, she wasn't able to save for the rainy days. What she earned in a day's work was enough to be used for their daily consumption. So they were in serious problem, because they no longer had money to buy the necessities, most specifically, food.
But Josefina heard about the SAP – this gave her family hope. They had something to look forward to. Fortunately, after being validated, their family qualified as one of the beneficiaries for the program. They were able to receive the aid. But sadly, instead of using it to buy food and medicine, it was used to shoulder the funeral expenses of her mother who passed away last May 6, 2020.
"Dako jud na tabang sa amoa ang kwarta nga gihatag sa gobyerno, labi na karon sa among sitwasyon nga nipanaw na si mama. Ug wala ni niabot, dako gyud problema pa among atubangon (The financial subsidy from the government really helped us a lot, especially now that my Mama passed away. If it weren't for this aid, we would be facing bigger problems now)," Josefina said.
Though it was bitter-sweet on Josefina's part to receive the cash subsidy under the circumstances, one thing is certain – the Emergency Subsidy Program, under the SAP, was able to address the family's needs.
The SAP under DSWD is intended for low income or poor families who are considered part of the informal sector. Priority are those families with members belonging to the vulnerable sector, just like Solo Parents, Persons with Disability, and Senior Citizens. Josefina's family fits all the criteria for them to qualify for the program.###