The coronavirus (COVID-19) pandemic has gravely affected many individuals and families across the country since its spread during the early months of 2020. It has taken a devastating toll on families, especially in terms of their livelihood. People's finances have become precarious and the majority lost their source of income- leaving them worrying about how to bring food to their tables.
But as most people grappled with the crisis, many individuals and groups have also emerged from their comfort zones to help affected and distressed families.
In Siargao Island, Surigao del Norte, one association from the municipality of Burgos stepped forward and instigated to help families in their community who have been hit hard by the economic crisis caused by the pandemic.
Sharing is caring
In May 2020, the officers of the Sustainable Livelihood Program (SLP) Matin-ao Rice Traders' Association, led by SLPA President Perla Dulpina, came to an agreement to extend a helping hand to their fellow SLPA members and other members in their small barangay.
Having seen the impact of the economic crisis on the people in Barangay Matin-ao, the SLP association wanted to relieve the situation of their fellow residents.
Hence, on May 16, 2020, the association distributed five kilos of rice to their co-members and three kilos of rice to non-member households.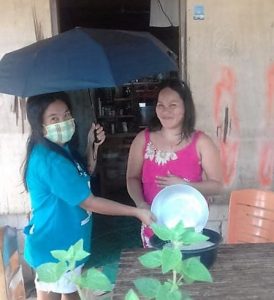 The total of rice distributed to the people amounted to PHP13,680. To shoulder this reach-out activity, the association shelled out from the savings they have earned from their rice trading project
After this initiative, they distributed another set of rice to the members of the SLPA on June 15, 2020. The association shared 15 kilos of rice to their 19 active members which amounted to PHP13,200.
Both the members and residents were grateful and delighted to the SLP Matin-ao Rice Traders' Association for the kind act that the association has made. For others, it may be a tiny effort only, but it meant the whole world for the recipients.
Through this passionate act, it has eased down the debilitating stress and anxiety felt by the community.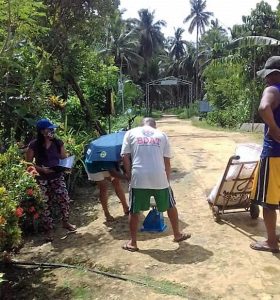 Of saving, growing, and moving forward
Aside from highlighting the generosity manifested by the SLPA, it is also noteworthy to share how they were able to share and source out from their finances.
Running for more than a year, the association was already able to set aside savings amounting to PHP125,000 from their rice trading store.
During their meetings, the officers and members also agreed to keep their capital for now and raise it before dividing and distributing the shares of each member. Since they were only a year and a half in the business, the association members' priority was to make sure that their resources grow and their project will sustain.
More than that, the association has the strongest desire to be of help to their community in times of crisis and to become a good example of how to manage livelihood finances well.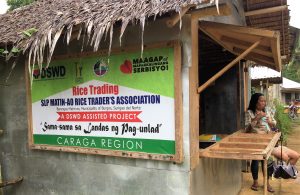 As SLPA President Perla Dulpina describes it, they want to show and encourage people that they were also capable of growing, becoming financially-independent and empowering others.
"Maskin sa gamay namo nga kita, nakatabang mi sa among mga kaubanan. Naghinaot kami nga unta mamahimo kaming inspirasyon ug saksi usab sa lain nga kaya sab sa mga tao sama namo nga mulambo (With our meager resources, we were still able to help our fellows. We are hoping that we will serve as living proof and inspiration to other people and people like us are capable of progress)," Dulpina shared with a huge smile.
It is undeniable that the COVID-19 has caused a major financial catastrophe. But because of the compassion, kindness, and generosity of people like the members of SLP Matin-ao Rice Trader's Association, measures have been initiated to soften the impact of the crisis on individuals and families.
The crisis may have crippled the economy, especially small businesses, but it has never been able to sabotage the goodness in people.