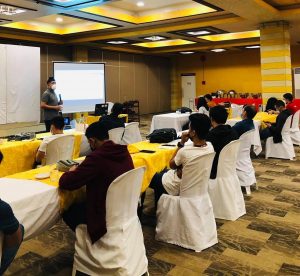 As the lead response pillar to disasters and calamities, the Department of Social Welfare and Development (DSWD) FO Caraga ensures that its response team and other technical staff are well-coordinated, follow established protocols and are clearly communicated to the public. Hence, the agency through its Disaster Response and Management Division (DRMD) has conducted the one-day Orientation for the Identified Ushers and Escorts on the Decorum and Guidelines for the Facilitation on Delivery of the Humanitarian Cargoes to local government units held at Grand Palace Hotel on May 21, 2021, this city.
The said event aims to increase the awareness of the participants on how disaster operations will go through in the context of DSWD mandate in collaboration with the intermediaries and other stakeholders— one way to systematize logistics management on disaster operations. The orientation also underscored the significance of focusing the facilitation of technical assistance to the staff who are identified to usher and escort the food and in-kind items being requested by the LGUs.
One of the resource speakers, Mr. Angel Bert Casimilio, SWO-II, highlighted that their task does not only start and end on simply accompanying the humanitarian cargoes but it also entails a lot of responsibilities such as ensuring the safety and the completeness of cargoes throughout the travel and until its delivery. "We have to take all the necessary procedures/processes to make sure that all is handled well and these cargoes are properly stored and/or delivered," cited Casimillio.
To encapsulate its cause, the event will highlight the worker's Integrity and Work Ethics; including the undertaking of their commitment.