In the relentless efforts to continually provide disadvantaged communities with innumerable livelihood opportunities and to help uplift the living conditions of these communities, the Sustainable Livelihood Program of the Department of Social Welfare and Development (DSWD) Field Office Caraga turned over assistance grants to four associations in Surigao del Sur on June 22 and 23 to fund their livelihood project.
KM9 Simowao Kabudagan Association in Lianga received a total grant of PhP 316,500 and proposed to establish a general merchandise store and purchase a one-unit transport vehicle. An assistance grant of PhP416,142 was also given to Lianga United Tricycle Operators and Drivers' Association to also set up a general merchandise project.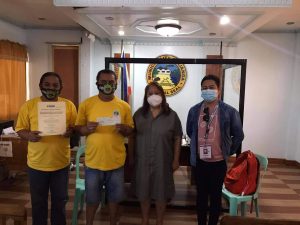 In Tagbina, the Maglatab Kamayo CAA Association received a grant of PhP475,400 and opted to venture into general merchandise as well. Aside from the said association, Tri-Wheeler Operators and Drivers' Association located in the same municipality have acquired a similar grant of PhP475,400 which they will use to purchase a one-unit motorcycle cab and spare parts.
The grants acquired by the associations will serve as their seed capital fund in establishing their desired livelihood. Aside from this, the associations will also undergo skills training to prepare and capacitate them well on how to manage their livelihoods.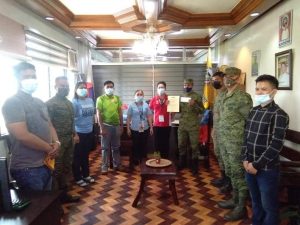 Lianga United Tricycle Operators and Drivers' Association President Baudillo Layno pledged that their association will work tirelessly to boost their livelihood and increase opportunities for the people in their community by generating employment.
"Kami sa asosasyon magtabang-tabang kay gusto sab namo nga ang tabang nahatag sa amo, kini amo sab mapaambit sa ubang miyembro sa among komunidad (The association will work together because we want to share the blessing extended to us. We want to share this with other members in our community)," Layno shared.
The Local Government Units of Lianga and Tagbina also committed that they will keep their lines constantly open for the associations and give technical assistance should it be needed.
After the grant turnover, the DSWD-SLP staff will conduct grant utilization monitoring to ensure that the funds were properly utilized as to purpose.
As stipulated in Memorandum Circular 22, series of 2019, the Sustainable Livelihood Program shall accommodate referrals of eligible individuals and groups who are in need of livelihood assistance even if their barangays are not identified as SLP-assisted areas. However, the accommodation of livelihood referrals will still depend on the availability of funds at the concerned field office.
SLP can cater the following type of referrals: individual/s representing a family or a household referred to the DSWD by another individual, group, organization, or office; individual/s referred by the SLP National Project Management Office to the DSWD FOs for further assessment and possible provision of SLP assistance; and walk-in clients who directly visit the DSWD FO or provincial/municipal offices probing livelihood assistance.