"Niagi ko ug grabe kalisod nga kahimtang sauna tungod sa kawad-on, kawad-on tungod sa walay sakto nga edukasyon ug dili makapangita ug sakto nga trabaho ug dako nga income, maong mobati ko sa kalisud nga nahiaguman sa akong kaparentihan ug silingan (I experienced a really hard life before. We were broke; broke because we have no proper education, and we cannot find the right job and income. That's why I feel for my relatives and neighbors who are also struggling now)."
The 33-year old Harlem Balano residing in Barangay Wakat, Barobo, Surigao del Sur sighed as he reminisced their hard life a decade ago.
In 2011, Harlem worked as a Job Order in the Local Government Unit (LGU) of Barobo as a Pantawid Pamilyang Pilipino Program (4Ps) LGU Link, earning a minimum of Php175.00 per day. He lives together with his common-law wife and their child in his parent's household, in a small house made of light materials. The family did not have regular income and solely depend on his father's income who was a tricycle driver.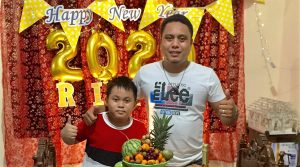 In 2014, the household was chosen as one of the recipients of the Panatawid Pamilya program and registered Harlem as the household grantee. His son Rahlemel Rikz was the only eligible child for monitoring of the household. Three years after, Harlem and his common-law wife separated ways. In that year also, he was recommended to work as Municipal Community Empowerment Facilitator for the DSWD KC-NCDDP Project. He continued to perform well in his job and was able to renew his contract the next year, this time with higher compensation.
Harlem continued to work as a CEF and in 2020, even with the threat of the pandemic, he decided to tie the knot with his new partner who is a regular teacher.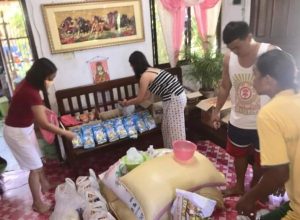 Both of Harlem's sister graduated college and presently works as teachers. Having enough income for the whole household, the family initiated giving of food packs by collecting an amount from the member of the family who has something to give. They raised a total of P12, 000.00 and used it to purchase the goods. The family food packs included: 10 kilos rice, 1 dozen noodles, 1 dozen canned goods, 1 kilo sugar, 1 pack assorted biscuits and 6 pieces malt drink.
As a way of giving back the blessings they received, they decided to help those people mostly affected during the lockdown. The family's initiative in times of crisis brought so much impact to some distressed citizens in the community of Barangay Wakat.
They did not just put a smile on their faces but fed their stomachs, and touched their lives. Other people in the community also appreciated and recognized their efforts that brought so much hope for them despite the pandemic. ###(Social Marketing Section/DSWD Field Office Caraga)