Wilma described their family as struggling. Having seven children is not an easy responsibility. They have experienced eating just vegetables because they cannot afford to buy rice; at some point in their lives, they were able to eat butong (young coconut) just to have a decent meal.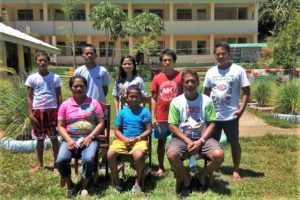 Allan, her husband, was only able to attend High School. With this, good paying job opportunities were scarce, which made it hard for him to provide for the needs of their growing family. Because of their situation they cannot afford to build a house that is much stronger and safer for their children. Before, they were residing in Mangagoy, Bislig City and their house is just made of light materials. Their walls and roof were made of nipa and their floor, made of bamboo sticks. There are times that they do panghinhas or combing the seashore for shells and fish during low tide so that they will have food on their table.  When their family started to grow, they decided to double their efforts to generate income, so Wilma started fish vending whilst Allan applied in one of the logging companies during that time.
Unfortunately, Allan was accidentally shot by a 16-year old who during that time illegally bought a shot gun. Though he survived the tragic incident, he was prohibited by the doctors to work especially work that requires him to lift objects or stand for long periods of time. After the incident, the family decided to live in Brgy. Lapinigan, Claver, Surigao del Norte since it is the hometown of Allan.
Following the incident, Allan was the one left in their home to take care of their children and Wilma was the one earning a living to provide all the needs of the family. She did everything just to earn every penny since she was left with no choice as her husband cannot work, and help her in augmenting the family's income. Aside from vending fish, she also sold vegetables as dabong (bamboo shoots) and bananas in the market.  It was an understatement to call it a sustainable life.
But the year 2009 was a blessing, as they were registered as set 2A beneficiaries of the Pantawid Pamilyang Pilipino Program (4Ps). At first, Wilma did not know about the program – what it is and how it works. She said that 4Ps has helped the family especially that she is the sole provider of the family. Her children used to ride a motor boat just to go to school, the grants helped through providing them with fare to-and-fro their school. Moreover, the grants also helped the family in buying the basic needs – sack of rice, and the children's allowances, and school uniform. She was also able to send two of her children to college with the help of the program because whenever she received their grants, some of the extra money goes to her children in college.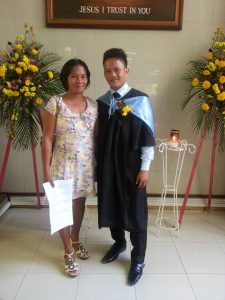 With the parent's efforts and support and also their children's perseverance, Jeford the eldest child was able to graduate and is now a licensed professional teacher. "Dako jud ang natabang nan 4Ps sa pagpaskwela sa ako mga anak nga college kay ako ipadaya saila para pang allowance ilabi na waya mi lain source of income (4Ps has helped greatly in assisting us for the education of my children. The grants served as their allowance, especially that we do not have other source of income)," Wilma shared.
Meanwhile, Jeford made sure to give back to his family by building them a house – even if it meant that his salary would greatly be reduced. He really fulfilled his promise to his parents that before he gets married he will build them a house that is more durable and safer for her parents and siblings even it will cost him a bulk of his earnings. His respect and love for his family is evident. The other children are still in school, and just this month Ian who is the second among the seven siblings has graduated college and is preparing for his review for the upcoming marine biology board examinations.
Wilma has been working very hard for her family, as well as in the community. Along with Allan, they are also active in their barangay as volunteers, always ready whenever there are activities in the barangay. She is also an active Violence Against Women and the Children (VAWC) officer and is a very generous neighbor. Allan doesn't just put his ability to help in box by just being a member of BPATs (Barangay Peacekeeping Action Team) but he is a very generous in extending monetary aid to his friends who are in need.
According to Erica Santianez, Wilma's co-parent leader, "Kana sila ate Wilma nga magtiajon matinabangon labina kung jaoy manganak, madisgrasya or mga emergency sila gajud ang doolon nan mga tawo para magpatabang para magpaiban sa hospital. Wayay kami masulti lain kung dili ang kamarajaw sa mag tiajon og wala nay silay mga labad (The couple are really helpful especially in helping those who have no resources to pay for hospitalization, especially for those who give birth, accidents, and other emergencies. They are the go-to family in the community. We cannot say anything praise them of their goodness)."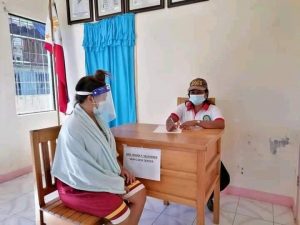 Moreover, Allan also serves the community and acts as a peacekeeping officer especially during the time of the Enhanced Community Quarantine, since during those times children were not allowed to go out because of the protocols. He was the one who reprimanded those children playing and swimming outside – since the barangay was far from the Poblacion, people thought they were exempted from the protocols. Wilma also helped her husband reprimand those children who have been violating the health and safety protocols.
What is good about the couple is that they don't just settle of what their roles are in the community, but they help in every way possible as long as they can; that no amount could compensate with the couple's high volunteerism spirit they demonstrated in their small island-barangay. Their status did not hinder them from helping others and from keeping their community safe.
Their children are also very responsible citizens and role models to other the other children in the island; because of their hard work in their studies and eventually reaching their own stars of success, despite challenges encountered financially, and having lived in an isolated island-barangay, these circumstances rather became stepping stones for them to rise from their impoverished condition just like the dream of their parents who planted seeds of generosity despite the scarcity in life. ###(Social Marketing Section/DSWD Field Office Caraga)