DSWD Secretary Sec. Rolando Joselito Bautista, who is also the Inter-agency Committee on Anti-Trafficking and Violence Against Women and their Children (IAC-VAWC) led the culmination activity for the 18-Day Campaign to End Violence Against Women and the celebration of the International Day Against Trafficking on December 13, 2021 at the Cinema 1, SM Butuan, Butuan City.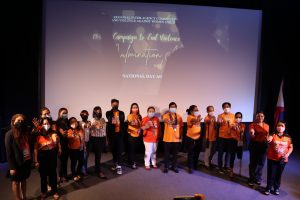 The Department of Social Welfare and Development (DSWD) Field Office Caraga, together with the members of the Regional Inter-agency Committee on Anti-Trafficking and Violence Against Women and their Children (RIACAT-VAWC) Caraga, in partnership with the Regional Gender and Development Committee (RGADC) Caraga, and the Commission on Human Rights (CHR) Caraga, joined the Secretary in closing the very successful celebration for this year's campaign.
The 18-Day Campaign to End VAW advocates the theme, "VAW-Free Community Starts with ME" and is annually celebrated on the 25th of November to the 12th of December. This campaign seeks to raise greater public awareness on issues faced by women and children and to bring light to all victim-survivors.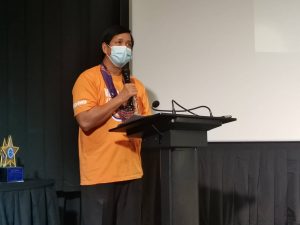 Sec. Bautista commended DSWD FO Caraga with its partners, for fulfilling an event that gives importance to one of the vulnerable sectors of the community.
"I would like to congratulate the members of RIACAT-VAWC Caraga, for holding this kind of activity, that manifests our continuing advocacy to protect our women, children and other vulnerable groups against all forms of abuse and exploitation," Bautista said.
With the collaborative efforts of DSWD together with RIACAT-VAWC, RGADC, and CHR, the primary goal of the campaign was realized and met.
This was also made possible because of the contributions of the different partner-agencies, non-government organizations, law enforcement agencies, and thousands of Caraganons who bannered the advocacy of totally ending VAWC.
Certificates of recognition and plaques of appreciations were personally handed over by Sec. Bautista, DSWD Field Office Caraga OIC-Regional Director Ramel F. Jamen, and Commission on Human Rights Regional Director Atty. Jerafe D. Tubigon-Bacang to the partner-agencies/organizations and individuals who have greatly contributed in supporting the efforts to achieve VAWC-free communities in the Region.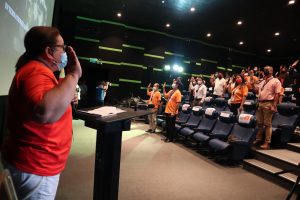 This year's campaign is intensified through Republic Act 11313 or the Safe Spaces Act, An Act Defining Gender-Based Sexual Harassment in streets, public spaces, online, workplaces, and educational or training institutions, providing protective measures and prescribing penalties therefor.
"Filipino Marespeto: Safe Spaces, Kasali tayo."#