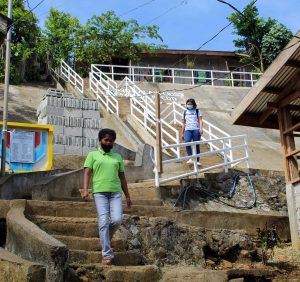 Life is full of choices. Some are easy but others are arduous, especially when it involves decisions that will make or break the welfare of the community.
Such difficult choices befall on the Mamanwa tribe, living in a highland village in the municipality of Alegria, Surigao del Norte province, when they were asked a few years ago to decide on what project under KALAHI-CIDSS PAMANA will they implement in their community.
KALAHI-CIDSS, otherwise known as the Kapit-Bisig Laban sa Kahirapan-Comprehensive and Integrated Delivery of Social Services, is one of the poverty alleviation programs of the government being implemented by the Department of Social Welfare and Development (DSWD). On the other hand, PAMANA, under the Office of the Presidential Adviser on the Peace Process (OPAPP), is the government's framework for peace and development. KALAHI-CIDSS falls under the second strategic pillar of the PAMANA framework, which is building resilient communities.
THE RIGHT DECISION
In 2019, the Mamanwa tribe in Barangay Budlingin was very uncertain about what project they would choose. At first, they considered the construction of a tribal center in their village. However, the community saw a more pressing and urgent need in their barangay — construction of concrete slope protection.
"Amo gyud gipili sa una is tribal hall. Giingnan nako sila nga atong tanawon ang sitwasyon sa atong komunidad. Magtukod gyud ta'g dike para depensa sa atong mga balay nga dili matambakan sa yuta panahon sa mga kalamidad (At first, we chose construction of tribal hall as subproject. I told them to observe the situation of their community. We should construct a dike that would protect us and our houses from getting buried whenever a calamity hits)," Mabalaw Mario B, Labao, the Mamanwa tribal leader in Budlingin, said.
The construction of the slope protection costs Php2,212,930, of which Php60,865 came from the coffers of the Municipal Government of Alegria and Budlingin. The project is expected to benefit 36 indigenous peoples households in the area.
The construction was completed on September 16, 2019, but was only inaugurated and turned over last June 30, 2022.
"Dili nako masukod akong pagpasalamat ana nga project. Akong nakita apil akong konseho nga wala mi nasayop sa pagpili. Dako nakog pagpasalamat sa proyekto nga dako gyud gikatabang sa komunidad labi na adtong Bagyong Odette (I am so thankful for such project. The barangay council and I were really not wrong in our decision. I am grateful for the project as it served its purpose especially during Typhoon Odette)," the tribal chieftain said.
"Ni-agi ang Typhoon Odette ug mga linog pero wala siya nabuak tungod kay maayo ang pagkahimo. Pagkusokuso na gyud sa bagyo, mura nga uyogon na ang bukid, pero kampante ko sa akong kaugalingon nga dili gyud mo landslide kay grabe gyud ka concrete fortification nga nabarug (Though Typhoon Odette and several earthquakes hit our area, the ground didn't give in as the project is well constructed. The mountain seemed like shaking during the onslaught of Typhoon Odette; but I was calm and confident that a landslide won't happen due to the solid concrete fortification that stood," he said.
Mabalaw Labao added that they will take good care of the project and might develop it so that it will attract visitors.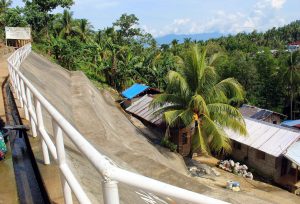 THE CDD APPROACH
Indeed, the Mamanwas made the right decision. Thanks to the community-driven development (CDD) approach used by KALAHI-CIDSS, the Mamanwas are empowered to voice out and choose what project is best for their community.
CDD approach is a globally recognized strategy for achieving service delivery, poverty reduction, and good governance outcomes. CDD helps communities in poor municipalities identify challenges around reducing poverty and make informed decisions on a range of locally-identified options for development.
During the inauguration ceremony of the said subproject, KALAHI-CIDSS Deputy Regional Program Manager Ester V. Villamor emphasized the importance of community participation and empowerment in the development of the barangay.
"Kanag proseso ug prinsipyo nga inyong natun-an sa programa, mao na among gusto nga inyong ikinabuhi (The processes and principles you learned is what we want you to live with)," Villamor said.
"Pinaagi sa Community-Driven Development, pinaagi sa panaghiusa, pinaagi sa pagtinabangay marealize ang mga proyekto nga inyong ginamithi (Through the Community-Driven Development, unity, and cooperation the project that you aspire will be realized.
Aside from the slope protection project in Barangay Budlingin, several KALAHI-CIDSS subprojects were already implemented in the area. These projects include the construction of two box culverts, a concrete pathway, two drainage canals, a level II water system, and the installation of 40 electric street lights.