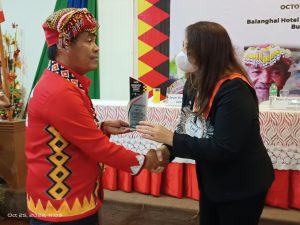 The Regional Director of the Department of Social Welfare and Development (DSWD) Field Office Caraga assured tribal leaders during the Indigenuos Peoples' (IP) Summit on Tuesday, October 25, that the Department "will remain steadfast in its commitment to deliver quality social services to tribal communities in the region."
DSWD Field Office Caraga Regional Director Mari-flor A. Dollaga said that since 2017, DSWD's PAMANA IP-CDD program "has been providing basic services to poor, vulnerable, and disadvantaged tribal communities here in Caraga."
"These milestones would not be possible without the cooperation and unity of every stakeholder here today. Thank you so much to the Office of the Presidential Adviser on Peace, Reconciliation and Unity (OPAPRU) and to the National Commission on Indigenous Peoples (NCIP)," Director Dollaga said
"Daghan na pud atong natabangan tungod sa program ug daghan na nga mga IP nga nakatagamtam sa bunga sa atong panaghiusa (We have helped a lot of people through the program; and many IPs have reaped the fruit of our solidarity)," she added.
In line with the National Indigenous Peoples (IP) Month celebration, the DSWD Field Office Caraga conducted the Indigenous Peoples' Summit cum Donors Forum at Balanghai Hotel and Convention Center in Butuan City, to convene tribal leaders from different Certificate of Ancestral Domain Titles (CADT) in Caraga.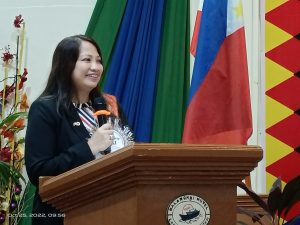 The summit convened tribal leaders from different Certificate of Ancestral Domain Titles (CADT) in Caraga, as well as some municipal mayors, representatives of national government agencies, and staff of DSWD's KALAHI-CIDSS PAMANA IP-Community Driven Development (CDD) Program.
Through the activity, tribal leaders were updated about the accomplishments and milestones of the PAMANA IP-CDD program. The activity also serves as a venue where the IP leaders could voice out their concerns or problems in their communities.
PAMANA IP-CDD (Payapa at Masaganang Pamayanan Indigenous People-Community Driven Development) is the government's framework for peace and development. It is implemented in conflict-affected tribal communities, as well as in areas covered by existing peace agreements. KALAHI-CIDSS (Kapit-Bisig Laban sa Kahirapan – Comprehensive and Integrated Delivery of Social Services) falls under the second strategic pillar of the PAMANA framework, which is building resilient communities.
"Despite sa atong mga accomplishments…layo pa gihapon kita sa atong mithi o pangandoy nga kalambuan sa atong mga tribu komunidad. Makab-ot lamang nato kana kung duna tay kooperasyon, pagtinabangay, pagsinabtanay, panaghiusa, respeto, ug gugma sa atong isig ka tribu. Kung mabuhat nato na, peace will follow and so is progress," Director Dollaga said.
[Despite our accomplishments, we have a long way to go in achieving our dreamed development to the tribal communities. We can only achieve it through cooperation, collaboration, mutual understanding, unity, respect, and love to our fellow tribe members. If we could have these, peace will follow and so is progress.]
The event was also attended by OPAPRU Executive Director Cesar D. De Mesa, NCIP Caraga Technical Management and Services Division chief Dr. Randy D. Rosas, several local government officials, representatives of government agencies; and DSWD Caraga KALAHI-CIDSS staff.
During the summit's open forum session, the tribal leaders raised issues and concerns they are facing, which were then answered right away by DSWD, OPAPRU, and NCIP staff.