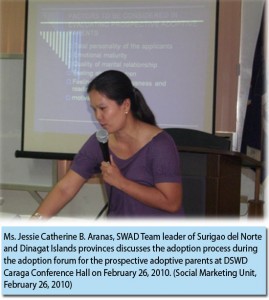 BUTUAN CITY – The regional adoption forum was held solely for the prospective adoptive parents (PAPs). A total of 15 couples (30 individuals) attended the activity. Atty. Josefe Sorrera-Ty, DSWD Caraga's retainer-lawyer discussed the RA 9523 or "An Act Requiring the Certification of the DSWD to Declare a Child Legally Available for Adoption as a Prerequisite for Adoption Proceedings" and AO 11- the omnibus guidelines on the domestic adoption process.
Atty. Ty explained that adoption proceedings of pending applications will be faster and easier, following the signing of the implementing rules and regulations (IRR) of Republic Act (RA) 9523 on adoption of neglected and abandoned children in the country. She pointed out that the signing of the IRR of RA 9523 makes the process faster.
She clarified that the act amended some provisions of three earlier adoption-related laws, namely: RA 8552 or the Domestic Adoption Act of 1998; RA 8403 or the Inter-Country Adoption Act of 1995; and the Presidential Decree 603 or the Child and Youth Welfare Code.
The lady lawyer also said that the time period before a child is considered abandoned has been reduced to a maximum of three months from the original minimum of six months while the period for the child to be declared legally available for adoption will be limited to less than two months from up to three years in court proceedings.
With the enactment of this law, Ty said, DSWD is now authorized to issue certification to declare a child legally available for adoption. Under the IRR, the petition declaring a child legally available for adoption can be filed by the Head of the agency or institution managed by the National Government or Local Government Unit; Head or Executive Director of a licensed or accredited child-caring or child placing agency; and a Provincial, City, or Municipal Social Welfare and Development Officer.
Meanwhile, Ms. Jessie Catherine B. Aranas, SWO II, discussed and explained to the PAPs the process that they have to follow in legally adopting a child.  She emphasized that PAPs must attend first the adoption forum of DSWD for them to know the effects and consequences of adopting a child.  She also stressed that the case study of the child to be adopted and the home study of the (PAPs) is free.
Aranas told PAPs that they will only spend for the compliance of the some required documents, attorney's fee and filing fee. ###