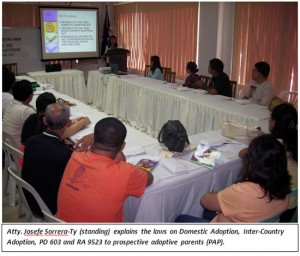 BUTUAN CITY – Atty, Josefe Sorrera-Ty, DSWD Caraga retainer-lawyer and Dean of the college of law of Father Saturnino Urios University emphasizes that adoption is for the best welfare and interest of the child. She urges the participants of today's adoption forum to undergo the tedious process of adoption because it is part and parcel of giving the best welfare to the child.
"You are depriving the child's right to know her origin by simulating his/her birth," the lady lawyer tells the participants. She says history of the child should be preserved because whenever  the child asks about his/her birth parents, the adoptive parents are ready to provide the information.   "By doing this, you are making the life of an adopted child whole."  Atty. Ty also informs the participants that simulation of birth is a crime.
In an interview, Atty. Ty echoes the campaign of DSWD against simulation of birth and exhorts those who are planning to adopt a child to do it the legal way. She calls on those who want adopt to contact first the offices of DSWD or the local social welfare office in the municipality or city, or the DSWD accredited child-caring agencies for a thorough assessment of the prospective adoptive parents (PAPs) and the child to be adopted.# # # (Social Marketing Unit, February 25, 2010).