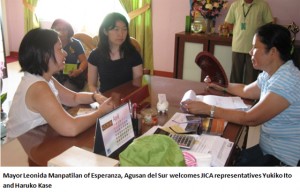 Butuan City – On April 18-20, 2010 two JICA (Japan International Cooperation Agency) representatives visited Esperanza, Agusan del Sur, together with Ms. Sharon Andrea Lumpias 4Ps Coordinator, DSWD Central Office.
Haruko Kase and Yukiko Ito went to Esperanza, a 4Ps pre-pilot area of Caraga region to look into the impact of the program to the beneficiaries and to the community. Moreover, the visitors from JICA also looked into the supply side-if school buildings/rooms and health centers are enough to cater not just the beneficiaries but the entire municipality, especially with the increasing number of school children.
Esperanza Mayor Leonida Manpatilan together with the School District Supervisors, Municipal Social Welfare and Development Officer, School District Officers and Municipal Health Officers welcomed the visitors.
They also visited barangay Guadalupe and had interviewed some of the 4Ps parent leaders in the barangay. They also dropped by barangay Guadalupe health center which was constructed in cooperation with the KALAHI CIDSS Project and the Local Government Unit (LGU).
The municipality of Esperanza has 47 barangays and has been a 4Ps area since October 2008; it has a number of 4, 926 4Ps beneficiaries while 39 of its barangays are recipient of the KALAHI CIDSS Project.
Pantawid PmilyangPilipino Program (4Ps) is a government's strategy in poverty reduction. It provides cash grants to the extremely poor households in order to improve their health, nutrition and education especially children 0-14 years old.