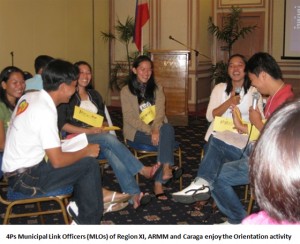 Some 15 members of 4Ps staff of DSWD Caraga joined the representatives of ARMM and Region XI in the 3-day Orientation on Compliance Verification System (CVS), Update System and Grievance Redress System (GRS), conducted at Waterfront Hotel, Lanang, Davao City on April 20-22, 2010.
The four (4) 4Ps Focal Persons and 11 Municipal Link Officers (MLOs) from Caraga attended the activity to equip themselves with the necessary knowledge and skills on the over-all management and process involved in handling the program.
Undersecretary Luwalhati Pablo, 4Ps National Project Director and Dir. Ester A. Versosa, DSWD Regional Director of Region XI welcomed the participants.
Undersecretary Luwalhati Pablo emphasized that the primary role of the MLO is to monitor the compliance of the beneficiaries to the set condionalities and will always see to it that all CVS forms will be submitted to the regional office. She also encouraged the participants to love their work and serve as a role model to the beneficiaries.
Shiela Javerle, a newly hired MLO for Jabonga and Santiago, Agusan del Norte said that the orientation has clarified and ironed out issues on CVS and Update System. In addition, it also made them realized the importance of the 3 systems in monitoring the compliance of the beneficiaries.
Update technical staff Jayson Dalicana; CVS technical staff Daianne Sadsad and GRS focal person Rommel Mellora facilitated the said activity.
Pantawid Pamilyang Pilipino Program (4Ps) is one of the flagship programs of the government in poverty reduction that is being implemented by the Department of Social Welfare and Development (DSWD). 4Ps provide cash grants to the extremely poor house to improve their health nutrition and education especially children 0-14 years old. # # #