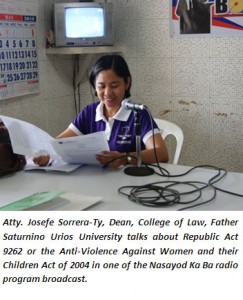 BUTUAN CITY – The Department of Social Welfare and Development (DSWD) Caraga has recently launched itsNasayud Ka Ba radio program to give women and children who are victims of violence, a voice on the airwaves.
"Our objective is to promote the rights of women and children and to generate public awareness and understanding of the issues on gender-based violence," says DSWD Caraga Director Mercedita P. Jabagat. She said the radio program that is being implemented through the project Comprehensive Pilot Intervention Plan Against Gender-Based Violence (CoPIPAGV) also tackles the laws that protect women and children against gender-based violence (GBV).
The CoPIPAGV is funded by Agencia Española Cooperacion Internacional Para El Desarollo (AECID).
According to Director Jabagat, the resource persons for the radio program include social workers and lawyers. It is hoped that Nasayod Ka Ba radio program would encourage and motivate the public to be always vigilant and immediately report cases of violence to concerned agencies.
Aired over DXBR-Bombo Radyo Butuan every Saturday at 9:00-9:25 in the morning since May 15, the radio program has already gained a following. It uses a format that provides a two-way communication between the resource person/s and the listener/s by accommodating and answering phone-in questions or questions sent through text message or even reports on cases of violence.
During the broadcast the public can ask questions, report cases of violence or ask assistance by calling Bombo Radyo's landline numbers 8152432 and 8152426 or by sending a text message using the format BOMBO BR MESSAGE and SEND to 29765.
"We encourage the public to be active listeners of the program Nasayod Ka Ba. Please tune in to 981 Khz in your radio dial," says Jabagat. # # # (Social Marketing Unit)