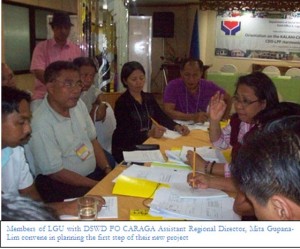 BUTUAN CITY – Five (5) municipalities in Caraga region who have implemented KALAHI-CIDSS (KC) for 3 years with fine performance will receive funds from the World Bank for the new project called Makamasang Tugon (MT).
These municipalities are Libjo, Dinagat Islands; Socorro and Pilar, Surigao del Norte; Jabonga, Agusan del Norte and Loreto, Agusan del Sur.
Representatives of these municipalities attended the Makamasang Tugon Community-Driven Development-Local Planning Process (CDD-LPP) Harmonization Program last August 16-20 at Pearlmont Inn, Cagayan de Oro City conducted by the DSWD's KC National Project Management Office. The workshop was also attended by the representatives of the three (3) municipalities from Region X – Concepcion and Lopez Jaena in Misamis Occidental; and Bacolod in Lanao del Norte.
The KC NPMO brought together the 8 towns to orient the members of the LGUs on the Makamasang Tugon project with the general objective of integrating CDD principles and processes in the local planning and investment programming cycle by way of an LGU-led implementation scheme of the KALAHI-CIDSS' CDD technology as its backbone.
As all KC projects are geared toward alleviating poverty incidence in certain regions of the country, the LGUs were asked to have a deeper analysis of their current situation, existing problems and its causes. The Workshop output showed Poverty as the main problem due to poor planning and budgeting, lack of health services, bad road condition, peace and order problem, poor quality of education, and unemployment.
"In order to break the cycle of poverty, you need to break the existing system," Mr. Cicero Juan Aguilar, KC National Community Process Specialist, told the participants. He stated further that a humane governance should be pro-poor, pro-gender equality, pro-minorities, and pro-disadvantaged.
At the end of the seminar, each municipality produced their Municipal Pilot Implementation Proposal and Plan (MPIP) – this describes how the LGU governance systems and processes will be enhanced through CDD strategies that promote meaningful participation, enhance transparency, and build accountability. It also serves as the basis of the implementation of their projects, which will be selected through participatory, criteria-based prioritization. Provision of grant funds will come from the World Bank with an indicative budget per barangay of Php 500,000 which will be multiplied by the total number of barangays in the municipality.
Implementation of the Makamasang Tugon Project will start on September 2010 and should end on April 2011 and will be implemented by the LGUs under the KALAHI-CIDSS Project. # # # (Social Marketing)