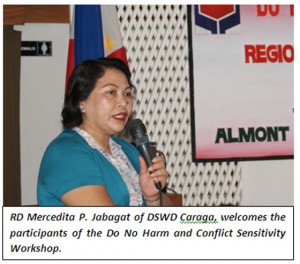 BUTUAN CITY – The Department of Social Welfare and Development (DSWD) Caraga Region in partnership with the German Development Service (DED) and Germen Technical Cooperation (GTZ) held a Do No Harm and Conflict Sensitivity Workshop for the field workers and other members of DSWD staff recently at Almont Inland Resort, this city.
The workshop hoped to provide a broad exposure to the lessons learned by the Local Capacities for Peace Project and the concepts and elements of Do No Harm Framework. It also wanted to raise awareness among the participants that humanitarian assistance and development cooperation can worsen conflict. The workshop also aimed at informing the participants that a tool exists to recognize and understand patterns of assistance in conflict, and that through identifying the patterns, options for addressing the issues can be identified.
The participants were guided step by step through the process based on their own practical field experience. Methods of the workshop used included relevant background information, presentations, open forum discussion, group work, case studies and games.
At the end of the two-day workshop, participants expressed that it could really be of help in resolving conflict that would arise in the implementation of various social welfare and development programs. # # # (Social Marketing Unit)