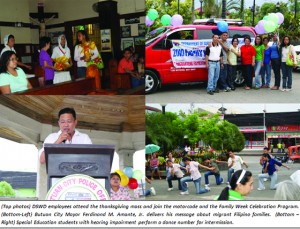 BUTUAN CITY – The Department of Social Welfare and Development (DSWD) held a Family Week Celebration Program together with the partner agencies on September 21, 2010 at the Rizal Park.
"The family that prays together, stays together and the family that stays together, is a requisite to a stronger family that we really need to build a stronger nation," said Butuan City Mayor Ferdinand M.  Amante, Jr.
Mayor Amante of Butuan City was the guest speaker during the Family Week Celebration Program.
In his message, Amante recognized the important role these migrant families play in building not only their own families but the whole nation as well especially when we talk about their dollar remittances that bolstered the Philippine economy.
Meanwhile, Amante also pointed out the harsh realities of not staying together, which is a big sacrifice on the part of migrant workers whose families are left behind in the Philippines. In fact, according to Amante, a certain group of social scientists and even some church group proposed to discourage Filipinos from working abroad for it has caused some breakdown of families.
It is always true that the breakdown of society begins with the disruption and breakdown of families.
It is hoped that through this Family Week Celebration, the Filipinos will become more aware of both the plight and contribution of the migrant Filipinos and their families. So that a unified and concerted effort by the civil society and other government agencies and the local government units should be in placed to safeguard and serve the best interest of the migrant families.
Other activities conducted on the same day were thanksgiving mass at the Saint Joseph Cathedral and motorcade around the city.
The theme for this year's Family Week Celebration is Migranteng Pamilyang Pilipino, Matatag Saan Man Sa Mundo. # # # (Social Marketing Unit)