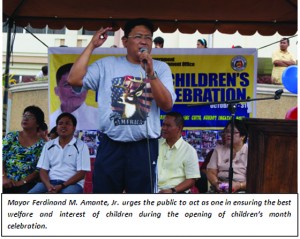 BUTUAN CITY – The City Government of Butuan under the leadership of Mayor Ferdinand M. Amante, Jr. hosted the opening activity of the National Children's Monthy Celebration on October 1, 2010. The month-long celebration opened with a foot parade and a program held at the City Hall Grounds, Barangay Doongan, Butuan City. The opening activity was facilitated in close coordination with the DSWD Regional Office and the Regional Sub-Committee for the Welfare of Children (RSCWC).  In his message, Mayor Amante urged the public to act as one in ensuring the best welfare and interest of children.
As mandated by Presidential Proclamation 267 the whole month of October has been declared as Children's Month. The purpose of this celebration is to create deeper public awareness on the issues and concerns affecting the children sector.
The National Government Agencies like NEDA, CHR, PNP, BJMP, DepEd and TESDA participated in the foot parade and program. The Pangkalambuan, Incorporated also joined the activity along with all Day Care Workers, Day Care Parents and Day Care Children in 86 barangays of Butuan City.
Other activities slated in line with the celebration include 1) Radio Guesting on October 6; 2) Day Care Encounter to be spearheaded by the LGU of Buenavista on October 14; 3)  Symposium along Drug Addiction, Trafficking in Persons Act and Teenage Pregnance and its Effects;  4) Simultaneous Election and Oath Taking of Little Officials and  5) the Local State of the Children's report to be facilitated by the LGU of San Francisco, Agusan del Sur on October 19, 6) Caraga Children's Congress on October 21 to be conducted by the DSWD and the RSCW; 7) PYAP Convention on October 27-28 also to be conducted by the DSWD and 8)  the Regional Convention for Day Care Workers Federation Presidents on October 28-29 to be conducted still by the DSWD. # # # (Social Marketing Unit)