Esperanza, Agusan del Sur – Life, they say is a battle. It takes one to be strong in order to survive.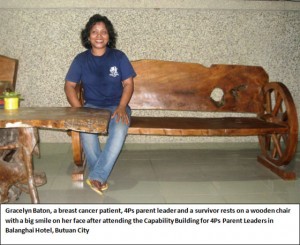 Gracelyn Baton, 48 years old of Purok 2, Esperanza, Agusan del Sur and a mother of 5 children ages 20, 18, 14, 12 and 10. Gracelyn's husband, Rolando Baton, earns money by weeding grass and planting rice for pay. Gracelyn does manicure and pedicure. The income is not even enough to suffice their monthly needs and it is difficult for them to pay for their children's school expenses.
While struggling in poverty, Gracelyn's world crushed when she was diagnosed with a stage 2 breast cancer in 1992. It all started with consistent pain and small lumps in her breast. "Pag-ingon sa doctor nga naa daw ko'y breast cancer, mura gayud og nadugmok akong kalibutan ug nawad-an ako og paglaom nga mabuhi pa (When the doctor said that I have breast cancer I felt my world was torn into pieces and I lost my hope to live)," shares Gracelyn.
She started to drink and get drunk. "Buntag pa lang ma'am hubog nako (even if it is still morning I'm already drunk)." She related that it came to a point when she was too drunk that she crawled on her way home. "I felt so useless, what's the use of living when I'm only going to die soon?" says Gracelyn. She lamented that financial problem is one of the reasons why she opted to get drunk to forget all the problems including her illness.
Her life changed in year 2007. The municipality of Esperanza became one of the 4Ps pre-pilot municipalities in the region. Gracelyn is one of the beneficiaries.
"Ang akong kinabuhi nagsugod og kabag-o (then my life started to change)" says Gracelyn. She shares how their MLO (Municipal Link Officer) dutifully monitor their compliance to the conditions of 4Ps and encouraged her to fight in order to live for her family.
With 4Ps, Gracelyn receives a monthly grant of 1, 400.00. For her, this is a big help. Gracelyn quits drinking liquor when she became a beneficiary of 4Ps. She was even elected as parent leader of one of the groups. Gracelyn wanted to be a leader but was  hesitant  at first to accept the position because of her health condition and her being known as a drunkard. Despite her situation, the mothers told Gracelyn that they will support her no matter what. Gracelyn was amazed that other mother beneficiaries really believe in her. With the support that she received from her members, she regained her confidence. She also believes that 4Ps is one factor that contributes the positive changes in her life.
"God must have a purpose for allowing me to live this long, and He never abandon us. I believe that 4Ps is one of His blessings because the program helps us send our children to school," says teary-eyed Gracelyn. She proudly express that she already quit drinking liquor. Instead of spending their income in buying liquor, she uses it to buy her medicines and food for the family. Another reason that Gracelyn decided to change for the better is that she wanted her children to see that even in her lowest moment; she was able to turn her life back in the right direction. "Nakatabang pud ang Family Development Sessions (FDS) sa pagpasabot kanamo mga ginikanan sa among responsabilidad sa among pamilya ug mga anak (The Family Development Session has helped us-parents understand more our responsibilities to our family and children)," says Gracelyn.
Gracelyn is now optimistic that with the assistanc they received from 4Ps, little by little they will be able to break from the clutches of poverty.
The government's Pantawid Pamilyang Pilipino Program (4Ps) is not just merely giving cash grants to the poor; it helps them realized that life has so much more to give if one knows how to live, hope and work it out.
Gracelyn, a mother of 5, a breast cancer patient, and a proud 4Ps Parent Leader shows that even in life's most challenging moments, when she's about to give up in life, she proves that a fighter knows how to stand after a crippling fall and proudly says, "I survive!" # # # (Social Marketing Unit)