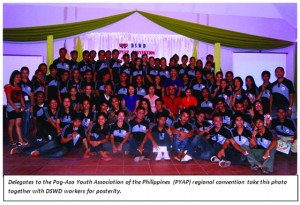 BUTUAN CITY – More than 75 youth leaders and youth workers from various cities and municipalities in the Caraga region have joined Pag-Asa Youth Association of the Philippines (PYAP) regional convention held at the Goat2geder Hotel and Restaurant on October 27-28, 2010.
This yearly convention provides a venue for the review and assessment of Unlad-Kabataan Program implementation in the local government units.  It also gives the youth the opportunity to showcase their different talents and skills.
The theme of this year's convention, which is "PYAP: Maabilidad, Kaya Mo, Kay Ko, Kilos Tayo," calls on the youths to participate in overcoming the challenging problems that hinder their participation in various welfare programs and services for youth.
The convention started with an opening program on the first day.  On the second day, Atty. Josefe Sorrera Ty, DSWD retainer lawyer and a staunch advocate of children and women's rights talked to the participants about the Republic Act 9775 or an Act Defining and Penalizing the Crime of Child Pornography, Prescribing Penalties Therefore and for other Purposes.  In short, the law is called the "Anti-Pornography Act of 2009."
As defined, a child refers to a person below 18 years of age or over but is unable to fully take care of himself/herself or protect himself/herself abuse, neglect, cruelty, exploitation or discrimination because of a physical or mental disability or condition.   Atty. Ty told the participants that in RA 9775, the definition of "Child" is expanded. In this law "Child" also refers to 1) a person regardless of age, who is presented, depicted or portrayed as a child and 2) computer-generated, digitally or manually crafted images or graphics of a person who is represented or who is made to appear to be a child.
Ty further explained that the law defines child pornography as any representation whether visual, audio or written combination thereof, by electronic, mechanical, digital, optical magnetic or any other means, of a child engaged or involved in real or simulated explicit sexual activities.
Other activities conducted during the convention were poster making, on-the-spot painting, essay writing and vocal sola contests.
The winners of the poster making contests were Daryl Martinez, RTR, Agusan del Norte – First Prize; John Rey Rabuya, Prosperidad, Agusan del Sur – Second Prize; Lester Paut, Butuan City – Third Prize.
For the on-the-spot painting, the first prize went to Joe Louie Arellano of San Luis, Agusan del Sur; second prize, Dennis Galeon of las Nieves, Agusan del Norte; and the third prize, Jesson Kris Beloy of Bacuag, Surigao del Norte.
Arnel Alipao of Mainit, Surigao del Norte got the first prize award for the essay writing contest. Girlie Mauquinto of San Francisco, Agusan del Sur, second prize and Adonis Alas of Las Nieves, Agusan del Norte, third prize.
The first prize for vocal solo was won by Johmarie Beray of RTR, Agusan del Norte. The second prize went to Kaycee Alinas of San Luis. The third prize went to Gil Vigil Gillane of Nasipit. # # # (Social Marketing Unit)