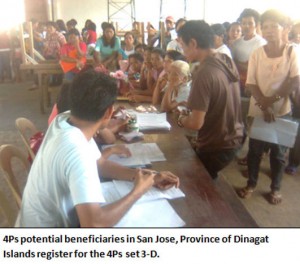 The Caraga Social Welfare Office has registered additional 8, 555 potential households from the eight (8) 4Ps municipalities namely: Santiago  and Tubay of Agusan del Norte Province; San Agustin, Tago, Cortes of Surigao del Sur; Alegria and Sta. Monica of Surigao del Norte; and San Jose of the Province of Dinagat Islands.
According to DSWD Regional Director Mercedita P. Jabagat the additional 4Ps potential households are part of the expansion of 4Ps for set 3-D area in order to accommodate more poor households in the region.
The registration of 4Ps potential household registration started on the last week of October and ended on the first week of November 2010.
The registered 4Ps beneficiaries will receive a monthly cash grant of as much as 1,400.00 to meet their needs in health, nutrition and education, provided that they will comply to the conditions set by program.
"As a 4Ps beneficiary and a parent leader, I am aware of the conditionalities set by the program. We need to comply these conditionalities for us to remain in the list of beneficiaries," says Gracelyn Baton of Esperanza, Agusan del Sur. When asked what are these conditionalities, she proudly enumerates them. According to her, the family with 0-5 years old children must ensure that these children have regular check-ups. She said, children aged 3-5 must be enrolled in day care and must have at least 85% of the school attendance while children aged 6-14 must be enrolled in elementary or high school and must also have at least 85% of the school attendance. Baton added that pregnant women beneficiaries must avail the pre and post-natal care and must be attended by skilled health personnel. The 4Ps also requires the parents or guardians to regularly attend Family Development Session."
As of this report, a total of 86, 726 beneficiaries are already receiving the cash grant.
Juliet Bustano, a mother of eight (8) and a resident of Purok 1, El Rio, Sibagat, Agusan del Sur was so elated when she became a beneficiary of 4Ps. Julieta is always thankful to the program "4Ps help us in the school expenses of my children, we were also able to buy nutritious foods and I am just so happy that somehow we will not be too burdened with it," Juliet said.
Pantawid Pamilyang Pilipino Program (4Ps) is one of the flagship programs of the government in reducing poverty in the country implemented by the Department of Social and Development (DSWD). With this, only the Department and no other government agencies and LGUs could add and exclude beneficiaries in the program.  # # #