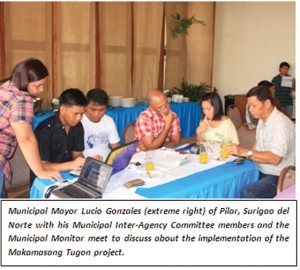 BUTUAN CITY, Caraga Region – Five (5) municipalities implement Makamasang Tugon (MT) in Caraga Region.These municipalities are Libjo, Dinagat Islands; Socorro and Pilar in Surigao del Norte; Jabonga, Agusan del Norte and Loreto, Agusan del Sur.The implementation started on September of this year and will end on April 2011.
The Makamasang Tugon is a new special poverty-reduction project of the Department of Social Welfare and Development (DSWD).
DSWD Caraga assistant Regional Director and KC project Manager, Mita G. Lim said that MT is an incentive for Local Government Units who have implemented KALAHI-CIDSS for 3 years with good performance.  She said the project is funded by the World Bank with LGU leading the implementation.
The selection of these municipalities underwent strict screening from DSWD. Members of the filtering system set by both the Regional and National Project Management Offices assessed previous KC municipalities and started identifying mobilization groups in the municipality such as the Municipal Coordinating Team who can now stand on their own operating the Community-Driven Development technology objective of integrating CDD principles and processes in the local planning and investment programming cycle by way of an LGU-led implementation scheme of the KALAHI-CIDSS' CDD technology as its backbone in their own local process planning.
A consultant of government's anti-poverty program challenged local government units to "break the cycle of poverty" by breaking the "existing system."
Cicero Juan Aguilar, KC National Community Process Specialist said that "humane governance should be pro-poor, pro-gender equality, pro-minorities, and pro-disadvantaged."
The World Bank provided the cash grant with an indicative budget per barangay of Php 500,000 which is multiplied by the municipality's number of barangays. The product is the total grant that to the municipality. # # # (Social Marketing Unit)