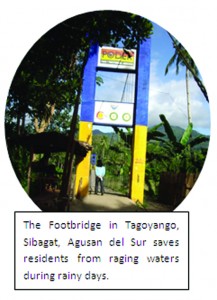 Sometime on a rainy June 2005, a six-year-old girl was found dead in the river.
This little girl tried to cross a bridge that linked her village, Barangay Tag-oyango, to the other side, the town proper of Sibagat. She was found dead days after she drowned in the town of Esperanza located along the Agusan River.
With a quivering voice, Barangay Sub-project Management Committee Chairperson Charito Ybañez-Valdez bitterly recounted the incident as we passed the hanging footbridge aboard a tricycle on our way to the barangay health center.
To reach Barangay Tag-oyango, a village of 120 households, one would have to take a 40-minute walk through its rough terrain and a 10-minute bangka or gakit ride to reach the town where they sell their crops and rice grains.
The death of this little girl became the subject of barangay assembly meetings. The barangay could only propose a bangka or gakit ride due to its limited resources and low income from members of the assembly who are mostly comprised of the barangay residents with income of less than a dollar.
Barangay Tagoyango was prioritized during the Municipal Inter-Barangay Forum. Their hanging footbridge was funded by Poder y Prosperidad dela Comunidad or simply PODER. It is a poverty reduction program funded by the Spanish government through Agencia Espanola de Cooperacion Internacional para el Desarollo (AECID)
The community, through a series of consultation and planning, decided to have a hanging footbridge built.
Charito reflected that the little girl might have prayed for them in the heavens, thinking of their misfortune and providence followed.
The Community-Driven Development (CDD) approach employed in implementing the sub-project empowered the community to come up with solutions and strengthened their sense of responsibility.
A second chance for a well-performing barangay
The barangay's smooth and efficient implementation of their sub-project for PODER Cycle 4 led to a second sub-project for Cycle 5 to which allocation of funds followed the minute the documents were reviewed during the Municipal Inter-Barangay Forum – Project Development Participatory Resource Allocation (MIBF-PDPRA) and found out that the recipients properly observed the PODER principles of Participatory, Transparency and Accountability. PODER Cycle 5 is centered on improving access to basic health and education unlike the previous cycles that had "open menu" for their sub-project identification.
This brought delight to the people of Sibagat, especially to Charito who had been hoping to erect a health station in their barangay after the incidence of dengue had befallen them. As of August 26, the physical accomplishment of Barangay Tag-oyango's health station is at 100% and the barangay was also the first to submit necessary documents for review at the Municipal Fiduciary.
Charito was so quick to identify her barangay's second sub-project since aside from the health station that benefited all households in the barangay, PODER helps in providing jobs for them as well – no outside workers were employed but workers were tapped in the community who worked as supervisors and as skilled workers. She succinctly pointed out that this project from the AECID has come a long way in improving their lives and has worked perfectly for a poor barangay like Tag-oyango by availing a considerable amount of fund and in return giving a lesser counterpart.
When asked what other projects they are hoping to get, Charito sprightly responded, "I hope there will be more projects to come but as of now we are happily enjoying and very thankful to the Spanish people by allocating some of their taxes by providing such projects and a kudos for DSWD for coming up with a genuine and brilliant poverty-reduction strategy."
Blissful residents and beneficiaries of the PODER Cycle 5 in the municipality of Sibagat are now in their Transition Stage of the Community Empowerment Activity Cycle (CEAC) and the sustainability of these sub-projects now lies within the adept hands of the people under the Monitoring and Evaluation Team.
Definitely, there will be no more deaths from the rage of nature or an impending epidemic; from each of these constructions will spring a renewed spirit for these poor families. ### (Social Marketing Unit)