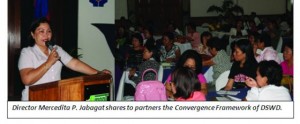 BUTUAN CITY –The Department of Social Welfare and Development (DSWD) has employed a convergence framework for a more efficient delivery of social services.
Director Mercedita P. Jabagat of the Caraga social welfare told partners about the convergence framework during the social welfare and development (SWD) forum held here recently. She also said DSWD Secretary Corazon Juliano-Soliman has been doing a nationwide roadshow to promote the Department's Convergence Framework.
This convergence framework, according to Jabagat, aims to maximize the impact of DSWD's poverty reduction programs through an effective targeting system and a holistic community development approach. She said it also aims to empower poor families in marginalized communities by focusing on health and education needs, basic physical infrastructure and livelihood.
"This framework is also known as the Public Private Partnership (PPP) Pathway out of Poverty. It consists of the three (3) key programs of the Department which are: Pantawid Pamilyang Pilipino Program (4Ps), Kapit-Bisig Laban sa Kahirapan – Comprehensive and Integrated Delivery of Social Services (KALAHI-CIDSS), and Self-Employment Assistance – Kaunlaran (SEA-K)," explained Jabagat.
Jabagat added that with this three-pronged poverty reduction approach of the Department, the deprivation of poor families, especially their right to elementary education and to health, within the context of their right to development is addressed.
The first component aims to secure the chronic poor through protective social services. The DSWD extends social welfare services to the most vulnerable sectors of the poor. It also provides assistance for education and health services through the conditional cash transfer (CCT) program, also known as 4Ps. To complement the CCT, microfinance institutions enhance the capacities of the beneficiaries by means of financial literacy programs and increase their security levels through micro insurance and savings facilities. Private sector partners deliver these programs to the beneficiaries through Mutual Benefit Associations (MBAs).
The second component seeks to improve the financial access of the transitional poor through direct support to communities for local development. The key program that responds to the needs of the transitional poor is the community driven development (CDD), also known as KALAHI-CIDSS. As the 4Ps program provides assistance to poor households to avail of education and health services, the KALAHI-CIDSS program provides technical and financial assistance to communities for the construction of social infrastructure projects such as potable water systems, footpaths, bridges, roads, health facilities, day care centers and classrooms. KALAHI-CIDSS sub-projects ensure that the facilities for education and health services are in place. The role of the private sector in this aspect is for skills development, community building and capital augmentation through microfinance.
The third component supports the economically active poor through community driven enterprise development. The DSWD currently provides technical assistance and non-collateral, non-interest loans to the entrepreneurial poor as part of the Self-Employment Assistance – Kaunlaran (SEA-K) Program. The program enables the poor to have access to credit, increase their income, enhance socio-economic skills, and develop positive entrepreneurial values. To support this program, private sector partners complement government initiatives through assistance in the following areas: enterprise development, microfinance, business development services and market matching. # # # (Social Marketing Unit)