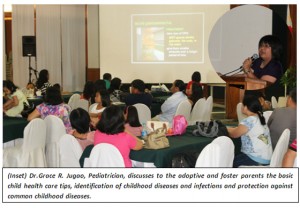 BUTUAN CITY – The Department of Social Welfare and Development Caraga Region gathered the adoptive and foster parents along with the children before the year 2010 ended. Called the Adoptive and Foster Parents' Congress, the meeting is done annually to promote the Alternative Family Care Program.
The Field Office deemed it necessary to hold this kind of activity to provide a venue for all foster families and adoptive parents to discuss issues and concerns relative to adoption and foster care and for them to share their experiences on parenting responsibilities.
"Putting a child in a center is the last option," stressed Mrs. Angelita B. Amista, Chief, Operations Division. She added "it is not the best place for children because parents are needed to balance the life of a child."
Amista thanked the adoptive and foster parents for taking care of the children and recognized the selfless love they have given to their adoptive and foster children.
Dr. Grace R. Jugao, Pediatrician, discussed the basic child health care tips, identification of childhood diseases and infections and protection against common childhood diseases.
A total of 70 participants to include foster and adoptive parents with children and field office staff attended the congress. # # # (Social Marketing Unit)