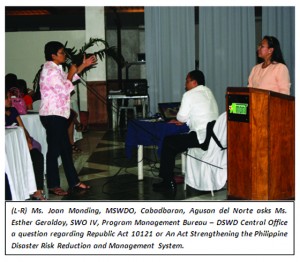 BUTUAN CITY – The Department of Social Welfare and Development (DSWD) Field Office Caraga recently oriented its partners especially the Provincial/City/Municipal Social Welfare and Development Officers (P/C/MSWDOs) on the Republic Act 10121 or An Act Strengthening the Philippine Disaster Risk Reduction and Management System at Butuan City's Almont Hotel's Inland Resort.
Ms. Esther Geraldoy, Social Welfare Officer IV of the Program Management Bureau, DSWD Central Office, focused her orientation on the roles of DSWD in the implementation of the National Disaster Risk Reduction and Management (NDRRM) Act.
In her discussion, Geraldoy emphasized the adoption of cluster approach to ensure effective coordination among all concerned agencies in the delivery of necessary services. She also discussed other salient features of the law, which include mainstreaming of Disaster Risk Reduction and Climate Change Adaptation in development, peace and conflict resolution processes, support to knowledge management and education such as setting-up of training institute, expansion of membership of the National Council to include representatives from the national government, leagues of local government units, private sector, and civil society organizations.
Meanwhile, Geraldoy also explained that with this new law, the current Disasater Coordinating Councils (DCCs) is now renamed to National/Regional/Local Disaster Risk Reduction Management Councils (N/R/L DRRMCs). The Barangay Disaster Coordinating Committee (DCCs) shall be known as Barangay Disaster Risk Reduction and Management Committee (BDRRMC) under the Barangay Development Council (BDC).
Moreover, the law stipulated for the establishment of permanent local Disaster Risk Reduction and Management Offices in all levels of local government, setting of penalties for abuses and misuse of resources, provision for Local DRRM Fund. Not less than 5% of the estimated revenue from the regular sources shall be used to support DRRM activities and 30% of which shall be allocated as Quick Response Fund.
Geraldoy emphasized that focus must be on risk reduction and management rather than response. # # # (Social Marketing Unit)