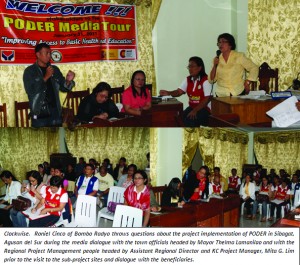 BUTUAN CITY – Some members of the press from radio and print joined representatives from professional and non-government organizations in a Media Tour spearheaded by the Social Marketing Unit of the Department of Social Welfare and Development (DSWD) in the municipality of Sibagat in Agusan del Sur last January 31, 2011.
The participants made the rounds to completed sub-projects of the department's anti-poverty program Poder y Prosperidad dela Comunidad – introducing them the Community-Driven Development (CDD) process, a social technology employed by the government to empower communities and eradicate poverty.
Beneficiaries and volunteers were treated to an informal dialogue with the participants and the Regional Project Management Office headed by the Assistant Regional Director, Mita G. Lim. They visited the Level II water system and day care center sub-projects in Brgy. San Vicente. They also went to the day care centers in Poblacion and Mahayahay. In Brgy. El Rio and Brgy. Afga, the team visited the health station and line canal sub-projects, respectively.
"You have no idea how back in the day we would walk miles of rough roads just to get water from the source in the mountains. We could never thank DSWD and AECID enough for supporting us and likewise trusting us for five years," enthused Jerelyn Valencia, member of the Project Preparation Team when asked by the press as to how the sub-projects have helped their community.
With a total of 9,691 number of households benefiting from the sub-projects funded by the Spanish government through the Agencia Española de Cooperacion Internacional para el Desarollo, the LGU expressed their gratitude to DSWD and AECID citing their efficient implementation of PODER through the guidance of both agencies in their municipality.
Having implemented PODER in Sibagat for five consecutive years, DSWD recently revealed to members of the LGU that since the municipality would have ideally graduated from and imbibed much of the CDD process in their local planning process three years ago, they will be included as recipient of the LGU-led Makamasang Tugon Project under the KALAHI-CIDSS this June.
"I salute the Department of Social Welfare and Development for spearheading projects that do not use the money for their gratuitous end. This should be emulated by line agencies in accordance to our president's call of Pagtahak sa Tuwid na Daan"this was expressed by Mike Crismundo, Mindanao Bureau Chief for Manila Bulletin during the post-activity evaluation. ### (Social Marketing Unit)