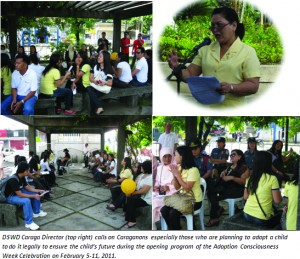 BUTUAN CITY – As the country's leader in social welfare and development, DSWD has continuously advocated for the legal adoption of children.
"I would like to emphasize that adoption procedures may become complicated if prospective adoptive parents try to commit simulation of birth certificates or making private arrangements in getting a child because these acts are prohibited by law," said DSWD Caraga Director Mercedita P. Jabagat  in her message during the opening program of the Adoption Consciousness Week Celebration on February 7, 2011 at the Rizal Park, Butuan City.
According to Jabagat, the child who is either a "victim" or "beneficiary" of birth simulation will be suffering from "identity" crisis. It is because a simulated birth certificate is null and void. It won't give the child its true identity.
Moreover, to avoid such complications and to ensure a brighter future of the child, Jabagat encouraged the prospective adoptive parents to go to DSWD, Local Social Welfare and Development Offices or to a licensed adoption agency to ensure that they are doing the right adoption process.
Jabagat stressed that legal adoption gives the child the same rights and duties as if he/she is a biological child of the adoptive parents and both acquire the reciprocal rights and obligations arising from the relationship of parent and child, including the right of the adopted child to use the surname of the adoptive parents.
This year's theme "Bata ay Huwag Abandonahin! Legal na Pagpapa-ampon ang Gawin," is apt and timely because the celebration aims to elicit support to the growing number of orphaned, abandoned or neglected Filipino children who are in need of families who will love, care and protect them. # # # (Social Marketing Unit)