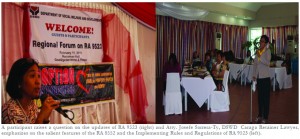 BUTUAN CITY – "Life is beautiful," quipped A tty. Josefe Sorrera-Ty, DSWD Retainer Lawyer as she spoke on Adoption Laws to participants of the Regional Forum on Adoption as part of the celebration of the Adoption Consciousness Week. Attended by 70 people including DSWD, local, medical, court and NGO social workers, and the media from different provinces, the forum was held at Goat2geder Hotel and Restaurant on February 11, 2011
The Republic Act No. 9523 otherwise known as An Act Requiring Certification Of The  Department Of Social Welfare and Development (DSWD) Top Declare A "Child Legally Available for Adoption As A Prerequisite For Adoption proceedings, Amending For This Purpose Certain Provisions Of Republic Act No. 8552, Otherwise Known As The Domestic Adoption Act of 1998, Republic Act No. 8043, Otherwise Known As The Inter-Country Adoption Act  Of 1995, Presidential Decree No. 603, Otherwise Known As The Child And Youth Welfare Code, And For Other Purposes. It gives an alternative protection and assistance afforded to every child who is abandoned, surrendered, or neglected.
"Out of something bad or ugly, something beautiful comes out in this world and we should preserve life and share love to these helpless creatures," added Atty. Sorrera-Ty referring to the growing number of simulation of birth cases and unwanted pregnancy in the country leading to children being abandoned by their families.
She emphasized on the state policies in accordance to the Domestic Adoption Act of 1998 or the Republic Act 8552 to ensure that every child should always remain under the care and custody of the parents and in the event of adopting a child, his/her interest shall be the paramount consideration providing alternative protection and assistance.
According to Irish Opeña, Social Welfare Officer IV of the Program Management Bureau from the DSWD Central Office, there are a lot of measures that are being made now to stop simulation of births and unwanted pregnancy. The department is working with LGUs and the Media for advocacy campaigns through radio and TV plugs, they are also developing Audiovisual Presentations to address these issues. Also included in the plan is the continuous conduct of forums and strengthening of the foster care program and develop foster parents through a creation of a Foster Care Bill.
Atty. Ty ended her lectures on RA 8552 and RA 9253 by saying; "if we help these children . . . then we should do it according to the state policy. We should not miss the point of the law – the law is there to ensure that we want to form life and partake in co creation." # # # (Social Marketing Unit)