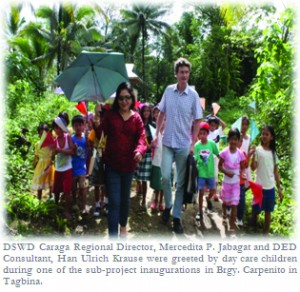 BUTUAN CITY – The Spanish government-funded anti-poverty project, PODER 5 implemented by the Agencia Española de Cooperacion Internacional para el Desarollo (AECID) through the Department of Social Welfare and Development (DSWD) has just completed a total of 35 sub-projects to four municipalities in Caraga region.
A total of five (5) day care centers, 13 health stations, and 17 school buildings amounting to a grant of Php30, 110,826.29 were erected in prioritized barangays in the municipalities of Sibagat in Agusan del Sur, La Paz in Agusan del Norte, Tagbina and Marihatag in Surigao del Sur.
The total municipal allocation for PODER 5 was Php25, 840,000.00. This came from the 15 barangays in La Paz, 25 barangays in Tagbina, 12 barangays in Marihatag, and 24 barangays in Sibagat. They were also able to fully deliver their local cash counterpart summing up to Php7, 979,251.94 forming part of the agreed 30 percent cash and in-kind counterpart from the MLGU, BLGU and barangays.
Elsa Montemor, Regional project officer (RPO) for PODER expressed her appreciation to both the volunteers and members of the Area Coordinating Team (ACT) who were able to finish their sub-projects on schedule. "I am very pleased that the volunteers themselves found the solutions to their problems during the Participatory Situation Analysis (PSA)," she said.
PODER 5 is biased in terms of its sub-projects. It is aimed in the provision of day care centers, health stations, and school buildings to complement the Pantawid Pamilyang Pilipino program (4Ps). "We are very much grateful to the Spanish government for PODER 5 is very timely as it also operates alongside 4Ps," stated Mita G. Lim, the DSWD Caraga Assistant Regional Director and Regional Project Manager for PODER.
PODER 5 has used the KALAHI-CIDSS' framework and principles of participatory, transparency and accountability. This is one of the programs that is geared toward reaching the country's commitment to the Millennium Development Goals (MDG) of ending poverty, providing universal education, maintaining child health and maternal health among others by the year 2015.
"We are not asking for any returns from you, what we want is your commitment of giving solution to your problems. We are hoping that you will maintain these sub-projects for they will not only make us happy but also will benefit the whole of your community," clarified David Arnaldo, AECID Regional Director, during a meeting with the Regional Project Management Office (RPMO) before leaving the country for a holiday break.
"This will be a great holiday gift to the people of Spain when I go home," he added.
AECID has also recently funded its sixth year of partnership with DSWD with its PODER 6 to the municipalities of Sta. Monica in Surigao del Norte, Tubajon in the Province of Dinagat Islands, Sta. Josefa in Agusan del Sur, and Hinatuan in Surigao del Sur.### (Social Marketing Unit)