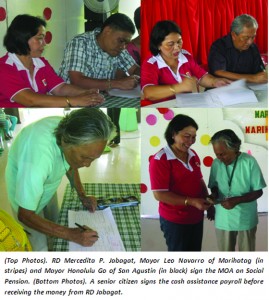 BUTUAN CITY – The Department of Social Welfare and Development (DSWD) Caraga region started today the release of social pension to senior citizens in the municipalities of Marihatag and San Agustin in Surigao del Sur. Director Mercedita P. Jabagat led the distribution to 96 and 61 older persons in Marihatag and San Agustin, respectively.
The distribution was preceded by the signing of the Memorandum of Agreement (MOA) on social pension.  In two separate occasions, Director Jabagat inks the MOA with Mayor Leo C. Navarro at the Marihatag Tree Park and with Mayor Honolulu Go at the San Agustin municipal gymnasium.
"The social pension for indigent Filipino senior citizen is in-line with the fulfilment of the obligation of the government to protect the most vulnerable sector through social protection, and for the full implementation of the Republic act No. 9994 or the "Expanded Senior Citizens Act of 2010," explained Director Jabagat.
The RA 9994 provides additional benefits and privileges and maximize participation of senior citizens in nation-building and amended the previous RA 9257 or the "Expanded Senior Citizen Act 0f 2003.
The objective of social pension is to improve the living condition of eligible indigent senior citizens. This financial assistance will help them with their basic needs. Under the law, indigent older persons are those who are frail, sick, disabled, not receiving any pension, has no permanent source of income, or regular support from families or relatives.
A total of 145,000 senior citizens will benefit the social pension nationwide and Caraga has 9,662 beneficiaries.  Qualified senior citizen beneficiaries are entitled to receive P500 per month to be released quarterly.
The DSWD prioritizes indigent senior citizens who are 77 years old and above. # # # (Social Marketing Unit)