Kaming kabataan ya lumad
Gitamay ya kanaming kinaija
Kalisod nga hunahunaon
Wara-a ya kahadlok
Hi-usahon ta ya kantang iba
I-asdang ta ya kantang kinaija…
-a Mamanwa song by Ronnie Montinegro
"Kaming Kabataang Lumad"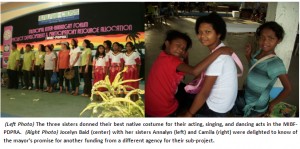 BUTUAN CITY – Jocelyn knew the way home would be a long walk. Long walks in the afternoon though are not uncommon to a Mamanwa like Jocelyn. Her tribe pride themselves as vagabonds of rare, indigenous culture. Unlike the Manobos, another major ethnolinguistic group in Mindanao, the Mamanwas did not adopt the lowlanders' way of living even if they were already Christianized. They transfer from place to place and travel as far as their minds could imagine and their feet could carry them.
It was that familiar cold Friday afternoon of ascending the mountains and getting back to her home that would have made the walk an easy task, but this one particular day unraveled a different fate for her and her siblings.
Jocelyn Baid, 20, of pure Mamanwa blood has been treading the same treacherous trail along with her sisters Annalyn, 12, and Camila, 11 for as long as they could remember – as they get free education every week from the nuns in the Sister Servant of the Holy Spirit located kilometers away from their village. The sisters descend Sitio Tiltilan in Barangay Mahanub on Sundays to attend school and hike back every Friday afternoon.
With no umbrellas and flashlights in hand but only the strengths of their ankles, the sisters once again sang their way up where their Kapitan Datu Ferdinand Lebrigo was waiting for them to arrive home. As the girls chorused to the pitter-patter notes of a Mamanwa chant their kapitan datu taught them, so was the rumbling sound of the thunder above then dark clouds and chilly wind catered to the arrival of an earlier evening.
Little did they know a tropical cyclone was ravaging its way to the municipality of Gigaquit, Surigao del Norte.
The rain started to pour and Jocelyn urged her sisters to make haste of time as the road up the mountains would become slippery and would make the course a difficult one. Unfortunately, Camila, who were trying her best to make bigger strides, slipped. What made matters worse was that Annalyn who was also lagging behind, broke her right leg as she reached out a hand to help her sister. Jocelyn, being the elder sister was left with the herculean task of carrying Annalyn in her shoulders as Camila limply kept up with her sisters. It took them an hour to get to the top.
Kapitan Datu Lebrigo hurriedly assisted Jocelyn and her sisters. Getting back in the village for the weekend meant house chores and tilling the land of the clan but on this very day of unfortunate events, the sisters however were greeted with good news from their chieftain. After mending Annalyn's broken ankle with a native concoction of medicinal plants, the kapitan datu broke the news — they won't any longer be worrying their weekly predicament of climbing up a rugged terrain for an anti-poverty project of the government called Kapit-Bisig Laban sa Kahirapan – Comprehensive and Integrated Delivery of Social Services (KALAHI-CIDSS) implemented by the Department of Social Welfare and Development (DSWD) has promised building sub-projects in their municipality or at least, will be guiding them in acquiring social services from other funding agencies.
Since then, Jocelyn had witnessed her tribe address issues in every barangay assembly she could get a chance to attend to. In fact, what she was witnessing was the impetus of years of struggle against scarcity of resources in building infrastructures such as the rehabilitation of the road in their village.
I was amazed at how my fellow villagers speak before a congregation. It's as if some divine spirit possessed them that they were able to air out their issues and concerns. My hat is off to them and to the social workers who were able to mobilize the people," observed an amused Jocelyn.
Paramount participation in a performance
But the girls couldn't have prepared for another shocker. The sisters never expected that a day would come when they will not only be tested for their endurance and tenacity but also with their acting chops. That day came when they were assigned by the kapitan datu to present their experience of that man-versus-nature act in front of other barangays in the Municipal Inter-Barangay Forum – Project Development Participatory Resource Allocation (MIBF – PDPRA). The activity is the prioritization of sub-projects of the barangays who have satisfied and submitted the necessary documents to acquire the fund. The three sisters together with other Mamanwa girls all clad in their native costume acted, sang, and danced in a festive song in the hopes of getting that coveted "yes" for their proposed sub-project from other volunteers in the municipality.
"That was quite a nerve-wracking performance but we are still satisfied that we were able to reenact what we have experienced and make it known to other Gigaquitnon that such situation exist in our village. We are very happy. It's not everyday that we get to perform based on real accounts much more our story," ecstatically revealed by a shaking Jocelyn.
Other than the long stretch of reaching their village, which is always made less of a burden through their singing, the sisters concurred that the longest hours in their life so far was the waiting – the agony of sitting and facing the hours of waiting for the results to be called. And indeed it may have been their longest hours. These little stars, now stripped off of their timidness,  had to hold their breath for a second when they learned that their barangay was a couple of votes short from being prioritized and a drama closer to making their sub-project built.
However, what set this group of indigenous children from the rest of non-prioritized barangay during the MIBF – PDPRA was their resilience toward inopportune circumstances. It was very apparent that afternoon. And just like the song the sisters sing every time they ascend their village: Let us unite our strength/ Let us assert our culture/ We are the hope of our nation/ Hope of the struggling poor; the girls were resolute to the fact that they had given all that they could and that some days, one's satisfaction is obtained from sheer participation.
A new program puts KC sub-project proposal to use
When Municipal Mayor Carlos M. Egay, Sr. delivered his closing remarks, he announced that he would endorse the sub-project proposal of Brgy. Mahanub to another funding agency. Much to the delight of the villagers and the three sisters, the barangay is now on its way in rehabilitating their road through the Mindanao Rural Development Project (MRDP) of the Department of Agrarian Reform (DAR). With technical assistance from the Area Coordinating Team of DSWD, kapitan datu is attending the technical review of their proposal which is due for implementation by June of this year.
"KALAHI-CIDSS has taught me a lot of things: their participatory, transparency and accountability principles, which are basically what is embedded in the local government code, are revitalized in my municipality. I too am very much sold out to their objectives of reducing poverty and improving local governance. Although, being a small town with indigenous people here and there upholding their rights, empowering people I must say, is perhaps the most novel and effective idea one has lodged in the delivery of social services since projects in the community should be about the people and for the people," remarked the once policy-maker now turned local chief executive Egay, Sr.
Jocelyn and her sisters still walk the rugged terrain in reaching their school and in returning home. They have yet to witness the not-so-distant future transformation of their old road to a new and polished pavement. They have also discovered a new easy and short trail. And they still sing their way up the hill.
For Jocelyn who now stands as the mother who humbly sings amidst difficult circumstances and the father who provides strength in wisdom for her sisters, there never is a long way home.### (Social Marketing Unit)