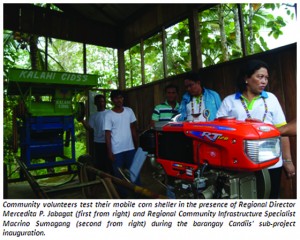 BUTUAN CITY – A total of seven (7) sub-projects were turned-over to this municipality last April 15 through the government's anti-poverty program implemented by the DSWD, the Kapit-Bisig Laban sa Kahirapan – Comprehensive and Integrated Delivery of Social Services or KALAHI-CIDSS.
These projects include a mobile corn sheller in Barangay Candiis; three health stations – one each in Barangay Limot, Barangay Caigangan and Barangay Anitap; two rainwater collectors – one each in barangay Sawagan and Barangay Bacay; and Level 2 water system (pump-driven) in Barangay Sisimon.
"The people of Sisimon are very blessed of the sub-project given by KALAHI-CIDSS. Our community can now enjoy and drink safe water from tap stands we have long been dreaming of having," a cheerful barangay captain, Crisito Tampos remarks of their accomplishment.
The total KC grant given to the seven prioritized barangays amounted to Php 5,755,947.30 while shares of the local government unit totaled to Php 1,194,299.00 forming part of the 30 percent local cash counterpart of the municipality.
Mayor Salimar Mondejar has recognized the DSWD for implementing this Community-Driven Development project. "We did not only receive grants but they also provided people with necessary technical trainings that shaped the community in terms of mobilization and resource generation," reflects Mayor Mondejar.
The KALAHI-CIDSS Project has been empowering the country's poorest communities through the social technology of Community-Driven Development and has been expanding for the last seven years to cover areas throughout the country to meet the Millennium Development Goals by 2015. ### (Social Marketing Unit)