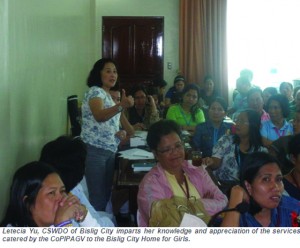 BUTUAN CITY – The Comprehensive Pilot Intervention Plan against Gender-Based Violence in CARAGA (CoPIPAGV 13)  recently conducted its Provincial Learning Assemblies in three (3) pilot provinces, namely: Agusan del Sur, Surigao del Norte, and in Surigao del Sur.
Participants and partners included the local community members, paralegals trained under the project, barangay officials, local social welfare officers, municipal health officers, Women and Children's Protection Desk (WCPD) officers of the Philippine National Police, and LGU officials.
The series of activities provided the venue for CoPIPAGV's partners to present their project's accomplishments. They also discussed their approaches and learning from working with victims and survivors to facilitate the efficient and effective delivery of services.
Documentation of good practices and lessons presented highlighted the activity. CoPIPAGV staff stressed on the importance of cross-learning among the partners, its sustainability, and replication that can eventually benefit a larger group of beneficiaries.
"These lessons could only come from the service providers who have untiringly supported and assisted victims and survivors from the identification of VAW cases to the provision of appropriate interventions to the follow-up activities involved in their successful reintegration. Hence, it is very important to gather all implementing partners to provide an opportunity for them to share their experiences," remarked Lyca Therese Sarenas, National Project Coordinator.
Meanwhile, the same participants and partners will be gathered in a Regional Learning Assembly, which is scheduled on May 26, 2011. The event will emphasize the best practices in addressing gender-based violence in these pilot provinces.
The CoPIPAGV is a project of the Department of Social Welfare and Development, which has been implemented in the Caraga Region since 2008. This project is funded by the Spanish government through the Agencia Española de Cooperacion Internacional para el Desarollo (AECID). ### (Social Marketing Unit)