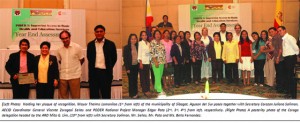 BUTUAN CITY – The Department of Social Welfare and Development (DSWD) through the Agencia Española de Cooperacion Internacional para el Desarollo (AECID) completed the fifth year implementation of their anti-poverty program Poder y Prosperidad dela Comunidad with a year-end assessment last April 25 at the Grand Ballroom of Crowne Plaza Galleria, Ortigas.
The activity that highlighted the best practices, experiences and lessons learned of the volunteers and field workers was attended by members of the LGUs and Poder staff of Field Offices 5 and Caraga.
In her speech, Social Welfare and Development chief Corazon Juliano Soliman acknowledged the success of the partnership of the Philippine government and the Spanish government. She also commended the efforts of the people behind the project particularly the LGUs.
Likewise, the secretary together with officials from AECID handed out plaques to outstanding mayors and barangay sub-project management committee (BSPMC) chairpersons citing their steadfast support and commitment to the project.
"We would also like to give the gratitude that DSWD and AECID so deserves for the past five years they have contributed in the development of our barangays in Caraga. When all one could dream of is a canoe, they would build a ship in just less than a year," metaphorically stated Rogelio Libres, one of the awardees of Best BSPMC from Brgy. San Patricio in La Paz, Agusan del Sur.
Poder had been implemented for the past five years in Bicol and Caraga regions. Recently, it has launched its sixth year implementation again in both regions with the addition of Region 3.
Mayor Thelma G. Lamanilao of Sibagat in Agusan del Sur was awarded Best Local Chief Executive for her exceptional supervision in the implementation of Poder for five years in her municipality.
The project also operates alongside another anti-poverty program of DSWD, its conditional cash transfer (CCT) program Pantawid Pamilya (formerly 4Ps). It ensures that the supply side is addressed by strengthening coordination with LGUs to build more classrooms, day care centers, and health facilities thus satisfying the conditions set by Pantawid Pamilya.
National Project Manager Edgar Pato posed a a new challenge to LGUs and Poder staff alike saying that the sub-projects given to the communities give accentuation to the program through partnership and volunteerism thereby stakeholders should do more and be better in terms of synergy and community mobilization.
This was concurred by Soliman and commended Poder by fostering an atmosphere for active citizenship through which communities are made to develop their common goals and interests – to reduce poverty and improve the quality of life. ### (Social Marketing Unit)