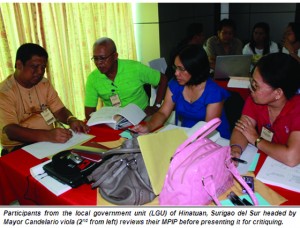 BUTUAN CITY – Eleven (11) local government offices from the municipalities of Caraga participated in the recently concluded two-part Municipal Local Government Unit (MLGU) Forum here on May 9-12 and May 16-18.
The first batch was attended by LGUs from the municipalities of Carmen in Agusan del Norte; Sibagat, La Paz, San Luis, and Esperanza in Agusan del Sur; while the second batch was attended by the municipalities of San Benito in Surigao del Norte; Hinatuan, Marihatag, Bayabas, San Miguel, and Tagbina in Surigao del Sur.
The forum primarily focused on the Department of Social Welfare and Development's (DSWD) KALAHI-CIDSS scale up implementation of the Makamasang Tugon (MT). It is desired that the LGUs will now implement KALAHI-CIDSS Makamasang Tugon modality through a harmonization of their Local Planning Process (LPP) and the social technology of Community-Driven Development (CDD).
The activity hoped to level off the partner LGUs about the MT implementation modality and encouraged them to come up with the best innovation in local governance through the crafting of their Municipal Project Implementation Plan (MPIP) with CDD-LPP harmonization as its core.
As their expected outputs, the LGUs presented their work and financial plan, start-up plan, and their MPIPs and underwent critiquing from both the National Project Management Office (NPMO) and Regional Project Management Office (RPMO).
"We need to effectively respond the needs of our constituents through more improved local governance," Deputy National Project Manager Benilda Redaja stated in Tagalog. "We need to see that the things you learned in KC will be invigorated in your implementation of MT so as to encourage meaningful citizens participation, enhanced transparency, and promote accountability," she added.
These municipalities were identified by the NPMO last January to receive this performance-based incentive grant based on the operational framework that presumes that they have already graduated from KC.
Also present were partner Civil Society Organizations throughout Caraga who formed the outside monitoring group of the Project. ### (Social Marketing Unit)