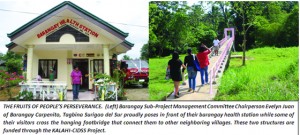 The year was 2007.
My mama would have named me Esperanza.
My mother, Diosdada Hersalina had high hopes that her baby would grow up to be the most beautiful and scrupulous creature to grace this side of the earth.
We lived in a hut together with my papa and two brothers in a village called Brgy. Carpenito in Surigao del Sur where most people would not venture in visiting for it is located kilometers away from civilization, as they would say. There's the difficulty of crossing the river for the village didn't have a bridge that should have connected us to the rest of the villages.
This situation brought an added challenge to my mama that already carried a humongous bump in her belly. But mama didn't think of this as a hurdle to continue with any regular task that required her to walk to Brgy. Poblacion to buy things.
Because mama loves me.
She would sing for me every morning of sweet lullabies to which I'd respond gleefully with a kick. Mama took care of me fondly. She'd exercise and my heart skipped at every rattle of her bones. She'd go to the market and buy healthy foods for both of us. She made sure she'd do all the house chores and left papa do the work in the farm. She'd also tell funny stories and I would giggle. She would have planned the first ten years of my life as if I were a delicate eagle's egg on the brink of extinction that needs to get past the incubation period as fast as I could to procreate – or in our world, empty the food sac she provided me and greet the sunlight with a smile.
I felt these things in the first eight months of my stay in mama's womb. Then came the day of reckoning when papa went berserk. It was four in the morning when mama started to feel pain as I was also sensing that ecstatic urge of getting out. But she remained calm. As swift as a hurricane, papa headed to a friend they call mananabang or a traditional birth attendant to aid mama in delivering but the mananabang was attending another expectant mother in another village far from Brgy. Carpenito.
Mama decided that day to just walk and traverse the river to reach the nearest barangay and from there, hitch a ride to the provincial hospital (which is a three-hour bus ride from Tagbina) for even a health station, our village was deprived of. Papa could not contest as they were saving what was left of their meager savings.
I could almost feel mama heavily gasping for air that time and could almost hear every flex and stretch of her muscle as they crossed the river. But the hospital was still far from reach and mama was beginning to see the light of day taking its toll over her poor health condition. I felt sorry for mama.
One gasp…two strides a few…three seconds and mama went silent. I could only hear her heartbeat. I kicked mama. There was no answer from her. I kicked again. I was alone. Then I heard her ethereal voice calling me to accompany her to a place only she knew where; and for the first time, her face illuminated before me. I went with mama.
Because I love mama.
As providence come in many forms, my mama found hers in a friend. Ma. Evelyn S. Juan was glad that an anti-poverty program of the government called Kapit-Bisig Laban sa Kahirapan – Comprehensive and Integrated Delivery of Social Services (KALAHI-CIDSS) implemented by the Department of Social Welfare and Development was able to penetrate our village and built us a hanging footbridge in 2009 through Mrs. Juan's leadership as the barangay sub-project management committee chairperson. Such was her love for my mama that only after a year the footbridge was built, our village was again able to avail the development interventions of DSWD through a Spanish government-funded project called Poder this time with the construction of a barangay health station.
Mama is happy as her friend is now leading their village and is able to answer the problems she confronted with before. Mrs. Juan represents every other mother who wishes to give protection for their children and to put a smile in every face may it be strangers or an unborn child. Mrs. Juan owes much of this to KALAHI-CIDSS and Poder's objectives of reducing poverty, empowering communities, and improving good governance.
There are other Esperanzas in my village who hopes with their mothers. When before this name only served to spruce up what seemed to be a bleak existence has now become a battle cry to fight poverty and dispossession of basic social services. Both KALAHI-CIDSS and Poder have helped a lot in uplifting our village from the previous situation and all constituents were able to directly benefit from these programs.
Mama once said that in love, one finds hope in every nook and cranny of the human psyche. Love encompasses all that is good and grand. It is universal.
It is 2011 and I would have been four years old now. Things change. A lot has changed in our village since KALAHI-CIDSS and Poder.
I love my mama. She loves me too. These facts have not changed – of these I am certain.###(Social Marketing Unit)